Event Details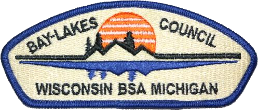 The next Life to Eagle workshop will take place at Hattie Sherwood Park in Green Lake on Saturday, October 26. The session begins at 9:00 a.m. and concludes no later than 11:30 a.m. This is for all Life Scouts, Scouts nearing Life, their parents, Eagle Scout Coaches, Scoutmasters and troop advancement committee members.
This is an opportunity for the Life Scout and his/her parents to get answers to the process of achieving the rank of Eagle Scout.
Unit leaders are encouraged to attend as well since much more of the responsibility for the Eagle process is now part of the Scoutmaster's responsibility.
Each Scout should download the Eagle Scout Leadership Project Workbook (all 3 parts) from the Bay Lakes website and bring it along as well as a copy of the application. Please let me know if anyone from your unit is attending for refreshment purposes. There is no charge for this event.

Hosted by: BLC, LL
When & Where
When: 10-26-2019 9:00AM to 11:30AM

Where: Hattie Sherwood Park
Green Lake, WI