Voyageur District Cub Scout & Scouts BSA Rountables
Event Details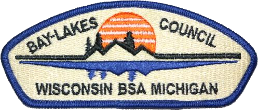 Voyageur Roundtables for Cub Scout, Scouts BSA, and Leaders take place the second Thursday of every month at Grace Lutheran Church in Green Bay. Each month a different topic is discussed.
The main feature of BSA roundtable will be a panel discussion on Scouts BSA and the special feature will be on leadership recruiting and succession planning.
The main feature of Cub Scout roundtable will feature a mock Blue and Gold Banquet, How to book, leader appreciation, and Pinewood Derby.
Please send one person from each unit to collect valuable information for upcoming events.
For more information about Scouts BSA roundtable, contact:
Roy LaPean.
920-434-1992
rlapean@new.rr.com
For more information about Cub Scout roundtable, contact:
Bob Haglund
920-406-0668


Hosted by: VY
When & Where
When: 02-13-2020 6:30PM to 8:30PM

Where: Grace Lutheran Church
321 S Madison St
Green Bay, WI 54301