Gathering Waters District Roundtable
Event Details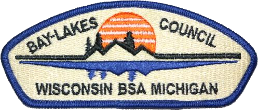 Roundtable meetings are held at Fox Valley Technical College in Appleton. Directions, maps, and floor plans may be found at www.fvtc.edu/appleton. Room numbers listed below:
Combined Cub Scout and Boy Scout Roundtable: 6:30-7:00pm in room C190A, with Cub Scout and ScoutsBSA break out meetings after that from 7pm-7:30pm. Some meetings may go longer, depending on topics discussed.
Order of the Arrow: 7-8:30 pm in room C190C.
Unit Commissioners will meet at 5:45pm in room C190B.
For Cub Scout Roundtable Questions Please Contact: Chris Meyer (cdmeyer@gmail.com).
For Boy Scout Roundtable Questions Please Contact: Mike Rospenda (miqwaa@gmail.com).
To follow all the district news on roundtable and other events, like our Facebook page at Gathering Waters District, BSA.


Hosted by: GW
When & Where
When: 12-12-2019 6:30PM to 8:30PM

Where: Fox Valley Technical College
1825 N Bluemound Dr
Appleton, WI 54912