Hiawathaland District Committee Meeting
Event Details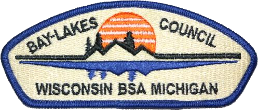 The Hiawathaland District Committee Meeting is done over goto meeting. The login instructions are e-mailed out to each member of the committee.
Contact Patrick O'Brien, patrick.obrien@scouting.org, 920-419-8401
If you have any questions or topics to bring to the District Committee's attention, please e-mail Patrick above by the second Wednesday each month.
Time is Eastern Time

Hosted by: HW
When & Where
When: 11-20-2019 7:00PM to 8:00PM

Where: Goto Meeting
Web Based, MI