Disabilities Awareness Merit Badge
Event Details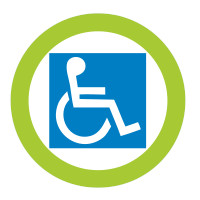 Hosted by Andrew Werner
Attention all scouts, you are invited to attend a disabilities awareness merit badge class on January 12th2019. This will be a unique opportunity to learn from subject matter experts in their respective fields and compete requirements with hands on exercises.
When: January 12th, 2019
Where: Firelands Scout Reservation, Avery Hand Dinning Hall
Time: Class starts at 9am and goes until 5pm
What to bring:
Blue Card
Water Bottle
BSA Medical Form
$2 to cover the cost of lunch
Please contact Andrew Werner to reserve your seat today.
(Also so I can get a head count for the class)
Home Phone: (419) 609-0685
Cell Phone: (419) 871-1881
Email:awerner72@bex.net
(My personal goal is to have at least 50 scouts at this event so I can complete my Wood Badge ticket with an event to remember. I look forward to seeing you there! Thank you)
Homework to be completed before class
Read the Disabilities Awareness merit badge book.
Requirement 2: Visit an agency that works with people with physical, mental, emotional, or educational disabilities. Collect and read information about the agency's activities. Learn about opportunities its members have for training, employment, and education. Discuss what you have learned with your counselor. (Example: Your School System)
Requirement 4: Visit TWO of the following locations and take notes about the accessibility to people with disabilities. In your notes, give examples of five things that could be done to improve upon the site and five things about the site that make it friendly to people with disabilities. Discuss your observations with your counselor. (Pictures may help clarify areas)

Your School
Your place of worship
Your Scout camping site
A public exhibit or attraction (such as a theater, museum, or park)

Requirement 5: Explain what advocacy is. Do ONE of the following advocacy activities:

A) Present a counselor-approved disabilities awareness program to a Cub Scout pack or other group. (Example: MB class) During your presentation, explain and use person-first language.
B) Find out about disability awareness education programs in your school or school system, or contact a disability advocacy agency, Volunteer with a program or agency for eight hours.
C) Using resources such as disability advocacy agencies, government agencies, the Internet (with your parent's permission), and news magazines, learn about myths and misconceptions that influence the general public's understanding of people with disabilities. List 10 myths and misconceptions about people with disabilities and learn the facts about each myth. Share your list with your counselor, then use it to make a presentation to a Cub Scout pack or other group.

Hosted by: LEC, CSA2, CSA3, CSA1, CSA4, CSA6, CSA5, CSA7, CE, SA1, SA2, SA3, SA4, WE, EA, SA1C
When & Where
When: 01-12-2019 9:00AM to 5:00PM

Where: Firelands Scout Reservation (Camp Avery Hand)
13782 Gore Orphanage Rd
Wakeman, OH 44889

Attachments