Campmaster Corps (CWSR) - Winter Camping
Event Details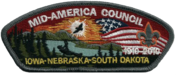 Click here for more information!
Program: Winter Camping - Learn about proper layering to stay warm, "snow" activities, hiking, and more. Contact Christine Salisbury at Christine.Salisbury@scouting.org if you have questions.
Campmaster programs are FREE to all Scouts with a reservation at Camp Cedars or Camp Eagle this weekend. Make your reservation today by clicking above by the snowflake.

Hosted by: DD, GR, BH, TB, WW, OH, IH, WE, TC, MAC, PLS, TL, SR
When & Where
When: 02-09-2018 6:00PM to
02-11-2018 10:00AM

Where: Covered Wagon Scout Reservation
2911 County Rd 15
Cedar Bluffs, NE 68015