Campmaster Corps (CWSR) - Beaver Day
Event Details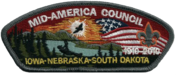 Click here for more information!
May 5th is Beaver Day at Camp Cedars! VOLUNTEERS are needed to help do lite construction projects that will help improve our Camp! Scouts and Adults are welcome!
START TIME: 9 AM on May 5th at the Millard Resource Center (barn) at Camp Cedars
LUNCH will be provided. TOOLS/MATERIALS will be provided. Don't worry- most of the projects only require basic skills. We will match you up with something works for you. Please contact Troy Schmidtke at 402-850-0772 if you are interested.
PROJECTS:
Replace doors at cabin 1 bathroom, Millard basement, staff lounge.
Replace rotten siding on cabins. All four cabins need some work.
Make 4 benches for Pentzien.
Repair/ build steps for designated tent platforms.
Repair equestrian pasture fence.
Install knee braces on many tent platforms.
Repair exterior walls of shotgun range 8' x 16' building.

Hosted by: DD, GR, BH, TB, WW, OH, IH, WE, TC, MAC, PLS, TL, SR
When & Where
When: 05-04-2018 6:00PM to
05-06-2018 10:00AM

Where: Covered Wagon Scout Reservation
2911 County Rd 15
Cedar Bluffs, NE 68015