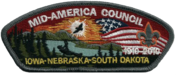 Click here for more information!
Program: Explore camp via Geocaching. Meet at the Parade Grounds at Camp Eagle at 1:30 pm and program will run until 3:30 pm. Campmaster will have all equipment. Contact Troy Schmidtke with any questions 402-850-0772.
Campmaster programs are FREE to all Scouts with a reservation at Camp Cedars or Camp Eagle this weekend.

Hosted by: DD, GR, BH, TB, WW, OH, IH, WE, TC, MAC, PLS, TL, SR