Campmaster Corps (LSSR) - Shooting Sports
Event Details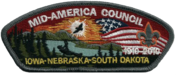 Click here for more information!
Program: Shooting Sports program will be offered on Saturday by NRA certified instructors and range safety officers. Primary shooting sports offered will be archery and BB Gun, though others may be added at the discretion of range officers. Specific range times will communicated when you check in. No outside firearms allowed.
Make your reservation today by clicking above by the image. Contact Denny Deters at dfdeters814@gmail.com if you have questions.

Hosted by: DD, GR, BH, TB, WW, OH, IH, WE, TC, MAC, PLS, TL, SR
When & Where
When: 03-16-2018 6:00PM to
03-18-2018 10:00AM

Where: Little Sioux Scout Ranch
32977 Larpenteur Memorial Rd
Little Sioux, IA 51545