Scout Kickoff at Railers Opening Night
Event Details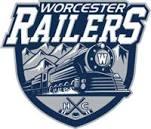 Click here for more information!
If you'd like to be seated with your unit, make sure to add others to you 'Group'!
Click the button above to go to the Railer's ticket website.
Join the Worcester Railers and Boy Scouts of America on Saturday, October 20th for our 2018-19 Home Opener! Puck drop is @ 7:05pm at the DCU Center in downtown Worcester.
Get special discounted tickets for being part of the Heart of New England Council!
The game is expected to sell out and you can join the Railers with tickets as low as $12!
Please contact the Railers at 508-365-1750 or at info@railershc.com with any questions at all.
Your tickets will be emailed to you within 24 hours of the event and all tickets must be purchased or claimed by midnight on October 15th.

Hosted by: HNE, MT, QC
When & Where
When: 10-20-2018 5:00PM to 9:00PM

Where: DCU Center
50 Foster St
Worcester, MA 01608