Mayflower Council Summer Roundtable Series
Event Details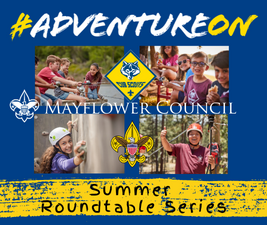 The Mayflower Council is excited to be hosting the Summer Roundtable Series in July & August. We encourage each Cub pack to send along a key 3 member and their recruitment chair or whoever is helping to plan their portion of the September 9th Join Scouting Day.
The main topics will be the marketing resources in support of Join Scouting Day as well as a number of other key topics.
There will be breakout rooms for Cub Scout packs and Scouts BSA troops. Each room will discuss the most revelent recruting & retention strategies.
We look forward to seeing you!

Hosted by: MC, MD, PD, HD, CD, SD
When & Where
When: 07-11-2023 7:00PM to 8:30PM
Where: Virtual
Your Home
83 Cedar Street
Anytown, MA 01757

Map