Unit Success Workshop: Understanding the New BSA Barriers to Abuse
Event Details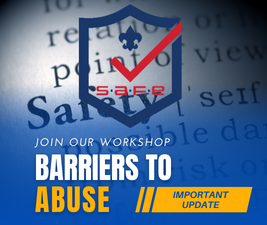 As part of our ongoing commitment to abuse prevention, the BSA is updating the adult supervision requirements for overnight activities.
In this workshop, we will discuss:
Enhancements to the minimum "two deep leadership" requirements.
The definition of an adult fee required position.
Limited exceptions for Cub Scout Parents and Guardians.
Scenarios and examples.
Required date for policy adoption.
Register in advance for this workshop:

Hosted by: MC
When & Where
When: 04-19-2023 7:00PM to 8:30PM
Where: Virtual
Your Home
83 Cedar Street
Anytown, MA 01757

Map