Dubuque District Roundtable
Event Details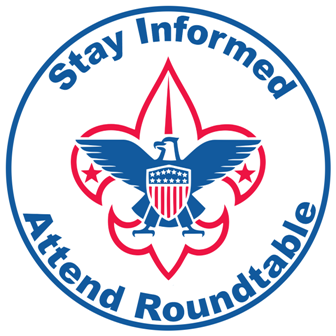 No Registration is Needed


Join us for the Dubuque District Roundtable!
This event is open to all volunteers. Catch up on everything happening in the District! Discuss events, options,and issues. You can promote current activities and events, ask questions and learn about resources, and participate in training opportunities. Plus build fellowship with other leaders in the NEIC! Meet & work with others to bring new ideas or solutions back to your unit. So stop by. We are here to help and listen.
Dubuque District Roundtables are held on the first Thursday of each month at 7:00 p.m. at Holy Trinity Lutheran Church. Holy Trinity is located at 1755 Delhi Street in Dubuque.
Here is a list of just some of the Roundtable topics we will be focusing on this year:
August: Membership Drive and Leader Recruitment & Training
September: Training & Recruitment, Popcorn, and Fall Camporees
October: Webelos to Troop, Activities, Training
November: Charter Renewals
December: Charter Renewals, Pinewood Derby
January: Scheduleing FOS Presentations and Journey to Excellence Plans
February: Webelos Transition
March: Promoting Summer Camp
April: Promoting Summer Camp & District Day Camps
May: Journey to Excellence & Program Planning
June: Intro to Membership Planning
July: No Roundtable!
Electronic copies of all handouts in the Roundtable Folders will be added as the year progresses to the box labeled Attachments, just to your right. These will accumulate throughout the year until June's Roundtable. Then the event will expire, and we will wipe the slate clean and start anew in August for the following school year.
When & Where
August RoundtableHoly Trinity Lutheran Church
Thursday 08-04-2016 7:00 PM CT to 8:30 PM CT
Past
---
September RoundtableHoly Trinity Lutheran Church
Thursday 09-01-2016 7:00 PM CT to 8:30 PM CT
Past
---
October RoundtableHoly Trinity Lutheran Church
Thursday 10-06-2016 7:00 PM CT to 8:30 PM CT
Past
---
November RoundtableHoly Trinity Lutheran Church
Thursday 11-03-2016 7:00 PM CT to 8:30 PM CT
Past
---
December RoundtableHoly Trinity Lutheran Church
Thursday 12-01-2016 7:00 PM CT to 8:30 PM CT
Past
---
January RoundtableHoly Trinity Lutheran Church
Thursday 01-05-2017 7:00 PM CT to 8:30 PM CT
Past
---
February RoundtableHoly Trinity Lutheran Church
Thursday 02-02-2017 7:00 PM CT to 8:30 PM CT
Past
---
March RoundtableHoly Trinity Lutheran Church
Thursday 03-02-2017 7:00 PM CT to 8:30 PM CT
Past
---
April RoundtableHoly Trinity Lutheran Church
Thursday 04-06-2017 7:00 PM CT to 8:30 PM CT
Past
---
May RoundtableHoly Trinity Lutheran Church
Thursday 05-04-2017 7:00 PM CT to 8:30 PM CT
Past
---
June RoundtableHoly Trinity Lutheran Church
Thursday 06-01-2017 7:00 PM CT to 8:30 PM CT
Past