2024 Tres Ritos Summer Camp
Event Details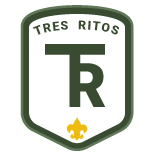 2024 Tres Ritos Summer Camp
Traditional Summer camp: June 23-June 29
*Trek Week 1: June 23 - June 29
*Trek Week 2: June 30 - July 5
See our program guide under "Attachments" for more info and a list of merit badges.
*Treks are limited to 2 adults and 9 scouts per week. They are also not limited to a single unit.
If you have a specific camp site request, please email your requested site to: rachel.smith@scouting.org and we will do our best to accommodate it. Sites will be subject to availability, first to request will be given priority.
If you have questions about camp in general please contact: michael.cole@scouting.org
When & Where
Traditional Summer CampCamp Tres Ritos
Sunday 06-23-2024 12:00 AM CT to
Saturday 06-29-2024 12:00 PM CT
---
Trek Week 1Camp Tres Ritos
Sunday 06-23-2024 12:00 AM CT to
Saturday 06-29-2024 11:59 PM CT
---
Trek Week 2Camp Tres Ritos
Sunday 06-30-2024 12:00 AM CT to
Saturday 07-06-2024 11:59 PM CT