Event Details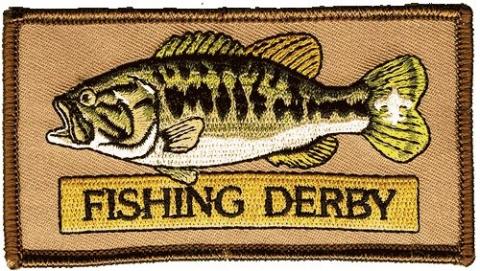 Emmett Ross Memorial Fishing Derby and Merit Badge Event
All are welcome to participate in a Fishing Derby organized by the Pine Hill District.
Cost: $5 per participant when you register in advance ($7 "at the door"). Scouts of all ages and programs are welcome.
For Scouts BSA: A merit badge counselor for the fishing merit badge will be on-site for the event, and available! He is also a certified angler for the BSA national program.
Youth Fishing Derby Rules (Also available as a downloadable PDF, linked to the side)
Cubs & Guests must be accompanied by an adult and use the buddy system onsite.
Scouts in Troops/Crews/Ships & guests must use the buddy system onsite.
The Derby begins at 9AM when the horn blows.
Stay at the lower end of the lake by spillway within sight of registration.
No boats or waders allowed.
Bring your own fishing rod, tackle, bait, and catch bucket.
All catches MUST be youth caught.
Adults may fish but are not eligible to participate in the derby and must possess proper licensing.
Place catches in your bucket filled with lake water and bring to either of the two catch measure stations.
DO NOT SAVE CATCHES. Take them to the measure station as you catch them.
Release each catch immediately after measuring. This is a catch & release event only.
The Derby ends when the 12 noon horn blows.
There are four categories for youth:
1) Cub Scouts, 2) Cub Scout Guest, 3)Scouts in Troops/Crews/Ships, 4) Guests age 11+
There are three prize categories for each class. Total 12 prizes.
1) Shortest Fish, 2) Longest Fish, 3) Most Fish Caught
A youth can win only one prize. (Decision of the judges is final).
Winners will be announced after the derby.
In case of a tie for longest or shortest fish, the winner will be determined by who caught the most fish.
In the case of a tie for most fish, the winner will be determined by total inches of fish caught.
If there is no winner for a class or category the prizes may be used to satisfy a tie or held for the next event.
Restrooms on-site will be a Port-A-Pot in the parking lot.
Leave No Trace in effect: All debris, trash, bait, tackle, must be removed from the site when you leave.
When & Where
McLaughlin-Norcross Memorial Dell Haddon Lake Park
Saturday 05-06-2023 8:00 AM ET to 12:00 PM ET
Past