Event Details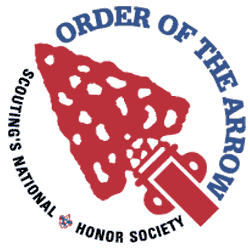 OA Banquet
Saturday, January 7, 2023
Time: 7:00pm - 8:00pm
Cost: $20 (covers dinner and patch)
* 2023 - Annual Access Pass Covers cost
Who can attend: OA Members, friends and family
Location:
St Paul's UMC - Fellowship Hall
1700 N Meridian Rd
Tallahassee, Florida 32303
Semialachee Lodge recognizes the best of the Lodge's youth and adult leaders at our annual Order of the Arrow Banquet. This event celebrates the success of our Lodge's most recent high achievers and newest Vigil members. It is highlighted by seating of our 2023 Lodge Executive Committee. Please join us for this special night of Scouting on Saturday, February 7 2023 at 7:00 p.m.
When & Where
St Paul's UMC - Fellowship Hall
Saturday 01-07-2023 7:00 PM ET to 9:00 PM ET
Past