2024 Camp Card Unit Commitment
Event Details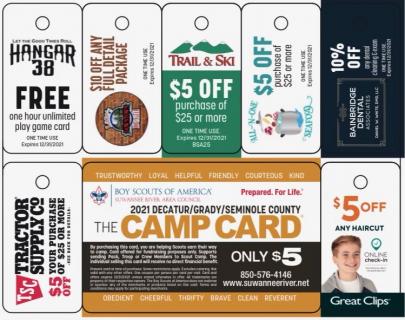 2024 CAMP CARD SALE
February 8 – April 26, 2024

Please click the green RSVP button to the right, to register your Unit's Commitment for this year's sale.
Save the Date for the 2024 Kick-off! Please see below for 2023 information.
---
The Suwannee River Area Council is pleased to announce the return of our Council-wide Camp Card Sale for 2023. We had banner years in 2021 and 2022 and look forward to earning our way through our scouting program in 2023. Our 2022 sale ended raising $31,965 for scouts in the Suwannee River Area Council. Our highest earning unit in 2022 was Pack 201, who raised $3,125 with only 6 registered sellers! We hope that every scout and unit will take advantage of this opportunity to pay your own way through their scouting career.
Here is your scout's chance to earn their own way in Scouting by participating in the annual Camp Card Sale. Camp Cards are coupon cards full of discounts to businesses in your local area that your Scout/Unit can sell for $5 and keep 50% of the commission.
The purpose of selling Camp Cards is to allow Scouts to earn money towards their Scouting program. This could be for unit campouts, a new uniform, annual registration or unit fees, activities, summer camp, or more. To learn more about how to participate and to see what's going to be on the cards, join us for an AWESOME Camp Card Kick-Off! Everyone is invited! Leaders, parents, and scouts. Even if your unit hasn't decided yet or is not interested in managing the sale for your families, you can still participate!
Coming in 2023:
Cards sell for only $5 each!
The Council is printing more than one version of the card to cover multiple geographic locations!
Each time a Scout sells 25 cards, he/she is entered into a drawing to win a camp scholarship!
The 2023 Camp Card Kick-Off will be held on Saturday, January 7, 2023 tentatively at District 850 in Tallahassee. Look forward to more information being released soon!
2662 Fleischmann Rd
Tallahassee, FL 32308
www.district850.com
When & Where
Save the Date Council Service Center
Thursday 02-08-2024 12:00 AM ET to 5:00 PM ET