2024 Camp Card Unit Kick-off
Event Details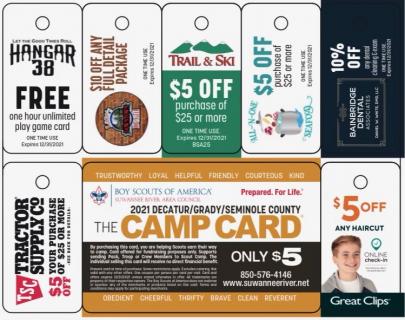 2024 CAMP CARD KICKOFF
January 6, 2024
The 2024 Camp Card Kick-Off will be held at District 850 in Tallahassee.
2662 Fleischmann Rd Tallahassee, FL 32308 www.district850.com
Schedule:
9:45am Doors Open/Sign In
10:00 - 11:00am Kick-Off
11:00am Stay & Play* (Optional)
Every Scout that attends will receive a 30-minute unlimited play game card! Please RSVP to secure your game card.
* District 850 is offering the following group packages for all Scout families that attend the Kick-Off IF YOU PRE-BOOK with Kerin Clarke at (850) 513-2119, or kclarke@district850.com:
Games, Lanes and Dine: 1 hour of Bowling and shoe rental, 1 round of laser tag, $5 game card and Pizza and soda $19.99
Bowl and Eat: 1 hour of bowling and shoe rental $5 game card, pizza and soda. $14.99
Value Play: 1 hour of Bowling, shoe rental and $5 game card $9.99
For questions, please email our Council Camp Card Chairman, BJ Palmer at bettybrown25@aol.com, or the Camp Card Staff Advisor, Jonathan Hutto at Jonathan.Hutto@scouting.org.
When & Where
District 850
Saturday 01-06-2024
10:00 AM ET to 11:00 AM ET