Worth Ranch Summer Camp 2024
Event Details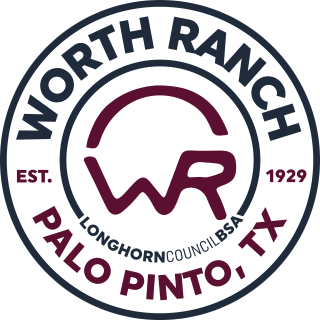 Traditional Summer Camp at Worth Ranch 2024
Worth Ranch, known as "The Big Adventure," has been a Longhorn Council tradition since 1929. Worth Ranch is one of America's oldest and finest traditional Scouting programs. Located in scenic Palo Pinto county about 60 miles west of Fort Worth, the camp is on the Brazos River at the foot of Kyle Mountain.
The camp's historic stone and petrified wood buildings that encircle our parade ground showcase the rich and colorful history of Worth Ranch. Comanche Indians once lived on our parade ground, and Quanah Parker, the last great war chief of the Comanche, was born only a few miles up the Brazos River. The chuck wagon was developed near here in 1866. When your troop attends Worth Ranch you'll receive traditional Scouting at its best from our talented staff and outstanding program facilities. Your Scouts can climb and rappel on the cliffs of our Climbing Garden, fish, canoe and kayak with us on the Brazos River, hike Kyle Mountain, swim and play water basketball and volleyball in our 2 pools, see the best campfire programs in the country, and eat in the air-conditioned Duncan Dining Hall.
Check out this awesome drone preview of Summer Camp!
Webelos Crossover
To support the transition of youth to the troop, crossover Webelos who plan to camp with their new troop will have their fees honored at the rate the troop earned with its registration/deposit.
Meaning: Youth joins troop in April (regular fees apply), Troop had established rate at Early Bird when it placed deposits in December of 2023. However, if the youth crossover does not complete the transfer of membership within 30 days of joining the troop, then the fees in place when he/she made the registration apply.
Camperships!!
Longhorn Council offers an in-council campership for Scouts in need. The maximum amount awarded is 50% of the registration cost for that Scout. The form is located on the right side of the page, under the Attachments heading. Please contact us if you have questions about Camperships!
New Unit Perks:
Newly established units (Longhorn Council Only) will be granted the Early Bird Rate when they register their new unit for camp with Deposits IF the troop registers for camp within 60 days of the charter date. Anytime thereafter, the unit will abide by published fees.
Free-Leader Incentives:
In council and out of council. 1 free leader slot per 10 youth registered.
Return to WR – in council only – If it has been more than 10 years since your unit was a guest at worth ranch summer camp, 2 free leaders.
Merit Badge Counselors have Merit! – If a leader with the unit - who is not required as 2 deep leadership – is a registered merit badge counselor and the program is being offered, he/she may help with the program that week and receive their leader fee slot free of charge. Request for this must be approved in advance by Camp Leadership prior to the waiver of fees being awarded. Request must be approved by April 20, 2024.
Accommodations Available at Camp
Please see the lists below for information on dietary, medical, and behavioral accommodations available at camp. This is not a complete list as Longhorn Council is constantly striving to make our programs more accessible for everyone, so please do not hesitate to reach out to the Camp Director if you have any questions. Unfortunately, Worth Ranch is not very wheelchair friendly because of the terrain.
Dietary
Gluten Free
Vegetarian/Vegan
Kosher
Halal
Lactose Intolerance
Peanut/Tree Nut Allergies
Diabetes
Behavioral
Small group instruction available
Frequent breaks in schedule
Communication plans with staff – non-verbal cues, code words, etc
Behavioral plans with staff
Printed learning tools
Written/digital instructions and behavioral expectations
Movement breaks
Choices in demonstrating comprehension
Alternate seating
Self-monitored checklists
Medical
Temperature controlled medication storage in First Aid Station
Ability to store/distribute/administer medication in the First Aid Station
Mobility accommodations (must set up with Camp Director)
Digital versions of lesson plans/assignments
Schedule Accommodations
Service Animal Friendly
Movement breaks
Alternate Seating
---
Join us for a Thursday night family night!
When & Where
Week 1 Traditional CampWorth Ranch
Sunday 06-09-2024 1:00 PM CT to
Saturday 06-15-2024 10:00 AM CT
---
Week 2 Traditional CampWorth Ranch
Sunday 06-16-2024 1:00 PM CT to
Saturday 06-22-2024 10:00 AM CT
---
Week 3 Traditional CampWorth Ranch
Sunday 06-23-2024 1:00 PM CT to
Saturday 06-29-2024 10:00 AM CT