Wilderness First Aid, First Aid, & CPR Courses 2024
Event Details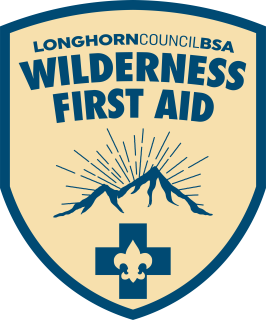 Wilderness First Aid, First Aid, & CPR Courses 2024
2024 Course Offerings:
January 27-28
February 17-18
April 13-14
April 20-21
May 4-5
May 18-19
June 1-2
Line partnership with ECSI (Emergency Care and Safety Institute), Longhorn Council is sponsoring First Aid Training at the Longhorn Council, 850 Cannon Dr Hurst, 76054. ECSI training courses were developed in association with the American Academy of Orthopedic Surgeons and the American College of Emergency Physicians.
Each Wilderness First Aid attendee will receive one $50 off coupon for a 2024 LHC summer camp. The coupon must be redeemed in 2024 and used only at camp by any adult of the attendee's unit who will be participating in Sumer Camp that week.
CPR/AED and Standard First Aid are offered in conjunction with (as part of) the Wilderness First Aid classes.
Times noted are 'real time,' not 'Scout' time, so please be punctual.
Wilderness First Aid & CPR/AED
Saturday 8AM - 8PM, &
Sunday 12:30PM - 6:30PM.
Fee is $135. Non Scout fee $160.
Standard First Aid & CPR/AED
Saturday only, 8:00AM -12:00PM.
Fee is $55. Non Scout fee $90.
CPR/AED
Saturday only, 8:00AM - 10:00AM
Fee is $30. Non-Scout fee $40.

CPR for Health Care Providers Available on request
WFA Minimum age to attend is 14. WFA participants must attend both days and dress appropriately for the weather as a portion of the WFA class will be held outdoors. Sandwiches included for lunch and supper on Saturday.
Additional classes may be scheduled if warranted. Lead instructor is Gary Wilson. Contact Gary at garywils@swbell.net for more information.
Wilderness First Aid classes are also available for adults during summer camp at Worth Ranch
When & Where
Wilderness First Aid, First Aid, & CPR - JanuaryLonghorn Council Office - Hurst
Saturday 01-27-2024 8:00 AM CT to
Sunday 01-28-2024 6:30 PM CT
---
Wilderness First Aid, First Aid, & CPR - FebruaryLonghorn Council Office - Hurst
Saturday 02-17-2024 8:00 AM CT to
Sunday 02-18-2024 6:30 PM CT
---
Wilderness First Aid, First Aid, & CPR - AprilLonghorn Council Office - Hurst
Saturday 04-13-2024 8:00 AM CT to
Sunday 04-14-2024 6:30 PM CT
---
Wilderness First Aid, First Aid, & CPR - AprilLonghorn Council Office - Hurst
Saturday 04-20-2024 8:00 AM CT to
Sunday 04-21-2024 6:30 PM CT
---
Wilderness First Aid, First Aid, & CPR - MayLonghorn Council Office - Hurst
Saturday 05-04-2024 8:00 AM CT to
Sunday 05-05-2024 6:30 PM CT
---
Wilderness First Aid, First Aid, & CPR - MayLonghorn Council Office - Hurst
Saturday 05-18-2024 8:00 AM CT to
Sunday 05-19-2024 6:30 PM CT
---
Wilderness First Aid, First Aid, & CPR - JuneLonghorn Council Office - Hurst
Saturday 06-01-2024 8:00 AM CT to
Sunday 06-02-2024 6:30 PM CT