IOLS/BALOO-Southern Service Area
Event Details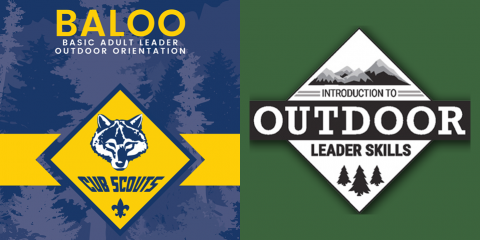 Unlock the Leader Within: Join IOLS and BALOO!
Calling all adventurous souls and dedicated leaders! Are you ready to take your Scouting journey to new heights? Look no further than IOLS (Introduction to Outdoor Leader Skills) and BALOO (Basic Adult Leader Outdoor Orientation). Prepare to embark on a transformative learning experience that will empower you as a Scout leader like never before!
Why Take the Course?
Gain Outdoor Expertise: Expand your knowledge of outdoor skills, from setting up camp to navigating the wilderness. Be equipped with the confidence to lead your Scouts on unforgettable adventures.
Connect with Nature: Rediscover the wonders of the great outdoors and learn how to instill a deep appreciation for nature in your Scouts. Watch as their love for exploration and conservation blossoms under your guidance.
Foster Team Building: Learn the art of effective teamwork and collaboration. Discover how to create a cohesive unit that supports and uplifts one another, both in the wilderness and beyond.
Enhance Safety Measures: Master essential safety protocols and emergency preparedness techniques. Ensure that your Scouts are always in good hands and that their well-being is your top priority.
Ignite Scouts' Passion: Unleash your creativity and learn how to spark enthusiasm in your Scouts. Inspire their curiosity, ignite their passion for learning, and empower them to become confident leaders themselves.
What You Will Learn:
Outdoor Skills Mastery: Develop expertise in crucial outdoor skills, including knot tying, fire building, first aid, map reading, and more. Become the go-to person for all things related to outdoor adventures.
Effective Leadership: Discover the principles of effective leadership and learn how to motivate and guide your Scouts. Cultivate an environment where each individual's unique talents are recognized and celebrated.
Risk Management: Understand how to assess and manage risks associated with outdoor activities. Learn to create a safe and secure environment for Scouts, ensuring their well-being while embracing the thrill of adventure.
Leave No Trace: Embrace the Leave No Trace philosophy and inspire Scouts to protect and preserve the natural environment. Foster a deep sense of stewardship that will guide them throughout their lives.
Program Planning: Master the art of program planning, enabling you to create engaging and impactful activities for your Scouts. From troop meetings to extended adventures, you'll be equipped to design experiences that promote growth and character development.
Course Details:
Dates: November 4-5, 2023
Times: Check in begins promptly at 8 AM on Saturday and the closing ceremony will be at 10 AM on Sunday.
Location: Camp Tahuaya, Belton, TX
Cost: $30 (covers all meals, snacks and program materials)
Pre-requisites: BALOO participants must complete the online component prior to arrival. The course material can be found in your my.scouting account. There are no prerequisites for IOLS.
What to Bring:
The staff will send a welcome letter with a complete packing list one week prior to the course start date. Each participant must bring a copy of current YPT certification and Part A, B1 and B2 of the official Scouts BSA medical form.
Don't miss this incredible opportunity to enhance your leadership skills, connect with nature, and inspire a new generation of Scouts. Join us for IOLS and BALOO, and unlock your true potential as a Scout leader!

Contact John Larson at oldgatorgames@gmail.com or 971-331-3445 with your questions and comments.
When & Where
BALOOCamp Tahuaya
Saturday 11-04-2023 8:00 AM CT to
Sunday 11-05-2023 4:00 PM CT
---
IOLSCamp Tahuaya
Saturday 11-04-2023 8:00 AM CT to
Sunday 11-05-2023 4:00 PM CT