Event Details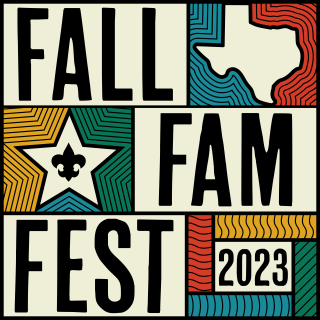 Fall Fam Fest is the best way to kick off your Scouting year. Join us for a Saturday of fun adventures in your local community.
In the outdoors, your family has opportunities to acquire skills and have fun together. You can have new experiences and complete challenges that you may have first thought were beyond your ability. We want to help you start that journey today.
Come join us for our Fall Fam Fest and take part in family activities together with us. With 12 locations spread over the North and Central Texas area, we hope one of them works for you.
Each event will have a unique lineup of Scouting Activities such as archery/shooting sports, outdoor cooking, physical fitness fun, outdoor crafts, family games and so much more.
Fall Fam Fest is geared towards families of youth from K - 5th grade. Registration today is for the entire family to come join our activities and see if Scouting is a fit for you.
This event is open to the entire community, but events like this happen over and over again within Cub Scouting. For information on how to find a Cub Scout Pack near you, please visit: BeAScout.Org
When & Where
Arlington Area Fall Fam Fest (Arrowhead District)Arlington Elks Lodge
Saturday 09-30-2023
9:00 AM CT to 3:00 PM CT
Past
---
Mid-Cities Area Fall Fam Fest (Pathfinder District)Generation's Park
Saturday 09-30-2023
10:00 AM CT to 2:00 PM CT
Past
---
Saginaw Area Fam Fest (Lonestar District)Willow Creek Park
Saturday 09-30-2023
10:00 AM CT to 2:00 PM CT
Past
---
Cleburne Area Fall Fam Fest (Santa Fe District)Hill College Cleburne Campus
Saturday 10-07-2023
10:00 AM CT to 2:00 PM CT
Past
---
Ft. Worth Area Fall Fam Fest (Trinity Trails District)Trinity Park
Saturday 10-07-2023
10:00 AM CT to 2:00 PM CT
Past
---
Killeen & Temple Area Fall Fam Fest (Leon Valley District)Camp Tahuaya
Saturday 10-07-2023
10:00 AM CT to 2:00 PM CT
Past
---
Milam and Robertson County Fall Fam Fest (Chisholm Trail)Franklin City Park
Saturday 10-14-2023
10:00 AM CT to 2:00 PM CT
Past
---
Waco Area Fall Fam Fest (Heart O' Texas District)Methodist Boy's Ranch
Saturday 10-14-2023
11:00 AM CT to 2:00 PM CT
Past
---
Lewisville Area Fall Fam Fest (Orion District)Hills and Hollows
Sunday 10-15-2023
12:00 PM CT to 3:00 PM CT
Past
---
Keller Area Fall Fam Fest (Mustang District)Heritage Church of Christ
Saturday 11-04-2023
12:00 PM CT to 4:00 PM CT
Past
---
Denton Area Fall Fam Fest (Frontier Trails District)Shady Shores Baptist Church
Saturday 11-18-2023
10:00 AM CT to 2:00 PM CT
Past