Event Details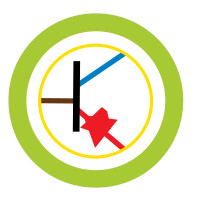 The Electronics Merit Badge is a fun, STEM-based merit badge that will inspire Scouts to pursue a possible career in Electronics. Scouts will learn about capacitors, transistors, and resistors while grasping the basic principles of digital techniques and demonstrating how to build a control device circuit. Understand the behaviors of electrons and learn safety precautions when using, building, altering, or repairing electronic devices with the Electronics Merit Badge.
Electronics Merit Badge Workshop at the STEM Classroom LHC Hurst Service Center 9am - 3pm. 850 Cannon Drive Hurst TX 76054
Lunch and Project kits provided. Cost is $30 Please bring a water bottle.
14 students max.
The students will learn to solder and build a small kit.
Seeking additional volunteers to assist in instruction.
When & Where
Electronics MB WorkshopHurst Service Center
Saturday 12-09-2023
9:00 AM CT to 3:00 PM CT