Event Details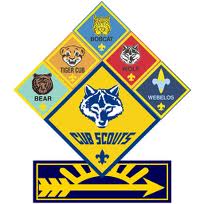 Webelos Lock-In 2023
Fun for Webelos and Arrow of Light Scouts

Scout Troops- Come have fun and welcome the new members of your troop!
REGISTRATION IS NOW CLOSED ONLINE.
WALK-IN REGISTRATION IS OK.
SEE WALK-IN RATE BELOW. BRING CASH OR CHECK.
Where: Chippewa Falls Middle School- 750 Tropicana Blvd., Chippewa Falls
When: Friday, February 3rd, 2023
Time: Check-in – 6:00 pm to 7:00 pm
Crossover Ceremony 7:00 pm
Program – 7pm Friday to 12am Saturday
Clean up and Departure 12am
Cost:
2023 Webelos Lock-In Fees
Webelos & AOL
Youth
Scouts BSA Youth,
Adults, & Parents
Early Bird
Registered & paid before 11:59 p.m. 1/31/23
$10
$5
Regular Rate
Registered before 11:59 p.m. on 2/2/23
$15
$10

Walk-In

$20

$15
General Information:
Make plans now to attend another fun-filled night of swimming, games, and fellowship with ScoutsBSA Troops in your area.
Scouts and leaders will be served Pizza and Soda following the Council-wide Arrow of Light to ScoutsBSA Crossover ceremony. This Crossover ceremony is very special and conducted by the Order of the Arrow. The Order of the Arrow will also be providing concessions throughout the night.
Webelos & Arrow of Light leaders and parents: please register your youth as a den if possible. Individual Webelos & AOL Scouts are also welcome to attend provided they are accompanied by a parent. Even if your AOL Scout has already crossed over to a troop, they should attend as an AOL Scout. Pre-registration is required!
Scoutmasters: please have at least 3-4 Scouts attend to help with games and set up a small show-and-do for your unit. Also, it is very important that you are there to welcome transitioning Webelos into your Troop.
What to Bring for Webelos and Arrow of Light Scouts:
Class A (Field Uniform)
Athletic Wear (for playing basketball & dodgeball)
Swim Suit
Towel
Spending Money for Candy and Soda (optional)
What to Bring for Adults and Scouts BSA youth:
Class A (Field Uniform)
Athletic Wear (for playing basketball & dodgeball)​
Spending Money for Candy and Soda (optional)
When & Where
Webelos Lock-InChippewa Falls Middle School
Friday 02-03-2023 6:30 PM CT to
Saturday 02-04-2023 12:00 AM CT
Past