Event Details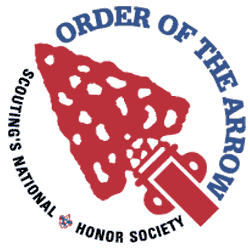 Kon Wapos Lodge Contingent to the 2020
National Order of the Arrow Conference
Where: Michigan State University, East Lansing, MI
When: August 3-8, 2020
Who: Any registered member of Kon Wapos Lodge with a current BSA registration.
How: Register below now to reserve your spot.

National Order of the Arrow Conference (NOAC) is a biennial event by Arrowmen for Arrowmen. It's like a shorter Jamboree without cooking, tents, or muddy trails. And you'll get lots of resources you can bring back to your home unit and the lodge to build a stronger program so all your friends can have more fun, too. NOAC features unforgettable fellowship, training, adventure and fun activities for Arrowmen of all ages and interests, and you get to meet some amazing people from across the nation.
NOAC is at Michigan State University in East Lansing, MI on August 3-8, 2020. We will be departing the evening of Sunday, August 2 and returning on Saturday, August 8. On our way, we will take the SS Badger car ferry from Manitowoc to Luddington. The pick-up and drop-off schedule will be determined during the summer of 2020 based on where contingent members live.
Go here for even more information about NOAC 2020 from National OA.
The conference features:
Fourteen quality meals in MSU dining

Housing in one of MSU's residence halls

Four

arena shows

Training sessions led by expert facilitators from across the country

Lodge competitions, including

basketball

, lodgeball and

lodge mascot competitions

Workshops for American Indian crafts and ceremonies

A regional gathering of all Arrowmen in the Central Region

The Founders Day celebration, with booths showcasing the best each lodge has to offer
Go here to see why NOAC 2018 was an awesome event! And watch an overview of NOAC 2018 here.
Your investment:
$750 for the conference, transportation, and meals

FREE Golden Arrow membership for all youth delegates attending with Kon Wapos Lodge's contingent – a $115 value

Includes your 2020 dues, attendance fees for Spring Fellowship, one each Spring and Fall Conference, Fall Gathering and Lodge Leadership Development Conference

Exclusive patches and apparel items – extras available for nominal cost

$50 discount available for first-time youth attendees

You can pay your registration fee up front or elect the payment plan:

For youth:

$100 – deposit due on registration – non-refundable but transferable

$150 – due on November 1, January 1, and February 1

$100 – due March 1

$100 – due April 1 ($50 if first-time attendee)

For adults:

$0 – deposit due at initial registration – see below

$250 – due January 1, February 1 and March 1
Sound like a great deal? Let's Get Started!
Reserve your spot by registering to the right. Youth will be asked to submit a $100 non-refundable but transferable deposit to secure their spot. Adult applicants will not be asked to submit a deposit at this time, as we want to be sure all youth get the opportunity to attend. Adults may ensure their spots by recruiting a youth member (under age 21) to attend and that youth indicating in their reservation the adult's name who recruited them. Adults will be notified of their confirmed place in the contingent after the Lodge Leadership Development Conference (LLD) in early December.
National guidelines require at least one adult female delegate attend the conference with the contingent if a youth female attends. If you are a youth female, please encourage adult female members you know to register as well.
We are in need of patch and apparel designs. Please submit designs to Dave DeLuka at ddeluka@hotmail.com.
If you have any questions about the NOAC 2020 contingent from Kon Wapos Lodge, please contact AJ Reicher, contingent adviser, at (262) 355-6512 or Andrew.reicher@cuw.edu.
Please note: Youth registrants need to let their unit leadership know their annual membership is being covered by NOAC registration so the unit does not double-pay dues. Youth are those under age 21 on August 3, 2020.
When & Where
Michigan State University
Monday 08-03-2020 12:00 AM CT to
Saturday 08-08-2020 11:59 PM CT
Past