Event Details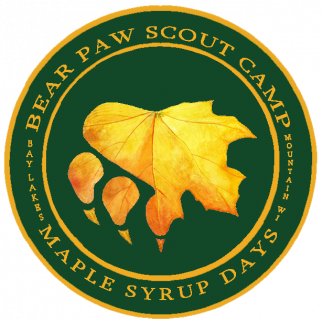 Experience Maple Syrup Making at Bear Paw Scout Camp
Maple Syrup Days
Saturday, March 20 and Saturday, March 27
Activities are for Scout ages 11-18
(In 2021 there will not be evening programming on Maple Syrup Days weekends.)
Want to see more of what Maple Syrup Days is all about?
Check out our YouTube video or visit the Bear Paw Scout Camp Facebook Maple Syrup Days Album.
---
Maple Syrup Days

Weekend 1: March 20
Weekend 2: March 27
Day Program with new track options
for Scouts BSA & Venture Scouts

As winter melts into spring, the sugar bush comes alive at Bear Paw Scout Camp in Mountain, WI. This sweet Scouting program will offer hands-on experience in the process of making maple syrup from bucket to bottle.
This program is intended for Scouts and adult leaders capable of participating in physical activities and 6th grade science-based principles.
Sap runs occur when the daytime temperature is above freezing (32°F) and the previous night was below freezing. Full buckets will make everyone happy, but we cannot control the weather, we just hope it cooperates. Dress appropriately for the weather.

One-Day Saturday Programs: March 20 & March 27
The program starts on Saturday morning with check-in at 8:00 a.m. A pancake and porkie breakfast featuring real Bear Paw Maple Syrup will be served. Participants will learn about the process of making maple syrup from tree to bottle in both modern and traditional methods. The cost of the of the weekend program is $30.00 per person and includes breakfast, lunch, a commemorative patch, and an 8 oz. bottle of Bear Paw Maple Syrup customized with your name.
New this year, there are two tracks for Scouts to choose from:

First Year Experience:
Like our traditional Maple Syrup Days program, Scouts will move in a round robin fashion through stations to introduce them to Maple Syrup making. Learn all of the elements that bring sap from the maple tree through the cooking process to the bottle as syrup.

Second+ Year Experience:
Take a deep dive into maple syrup and choose from sessions that go in depth about different aspects of maple syrup making or complete merit badges that relate to maple syrup
.
When & Where
Maple Syrup Open HouseBear Paw Scout Camp
Saturday 03-06-2021 8:30 AM CT to 3:00 PM CT
Past
---
Maple Syrup Days Weekend 1Bear Paw Scout Camp
Saturday 03-20-2021 8:00 AM CT to 4:00 PM CT
Past
---
Maple Syrup Days Weekend 2Bear Paw Scout Camp
Saturday 03-27-2021 8:00 AM CT to 4:00 PM CT
Past