BALOO: Basic Adult Leader Outdoor Orientation Spring
Event Details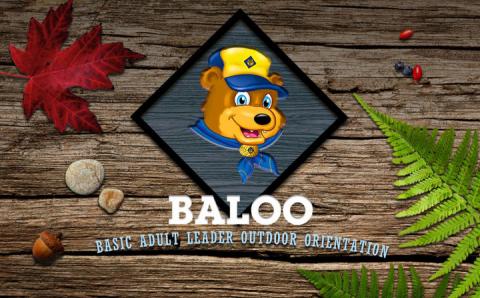 Welcome to BALOO training! It is the Cub Scout leader training required for any Cub Scout den or pack outdoor event, including pack camping overnighters and Webelos den overnighters. Come join us for a weekend of camping and learning at Camp Rokilio! This fun and informative course includes much outdoor learning, camping, knife safety, GPS, hiking, cooking, and more! Beyond outdoor skills we teach fun programming tips, ceremonies, and how to put on memorable campfire programs. Get a hands on learning experience about what it means to be a Cub Scout.

Completion of the BALOO course is required for at least ONE leader or parent in a Pack who attends any overnight programming including: Webelos campouts, family camps, museum overnighters, EAA sleepovers, Zoo campouts, etc. (Did we give you any good ideas?) The cost is $55 per adult which covers food and facilities.
BALOO training is comprised of two components—an online component and a practical, hands-on component. Both components must be completed to qualify as a "TRAINED" Cub Scout outdoor leader. The online component must be completed prior to the practical component. The online training contains introductory and basic information that will be built upon during the practical training.
The online component can completed at my.scouting.org
The practical training involves an overnight component, here is the suggested gear list for the training:
Tent
Sleeping Bag (bring an extra blanket, WI weather can change quickly)
Sleeping Pad
Sturdy Shoes
Change of Clothes
Uniform (if you have one for day 1)
Sleeping Attire
Mess Kit
Toiletries
Sunglasses
Camp Chair
Notebook & Pen
Jacket, Hat, & Gloves
Cub Scout Six Essentials (First aid kit, water bottle, flashlight, trail food, sun protection, whistle)
*if you or your pack do not have any of these supplies please let Sara Mierow at smierow.bsa@gmail.com know and we can sort out sharing of resources
With the on-line component needing to be complete before hands on section NO REGISTRATIONS AT THE DOOR WILL BE ACCEPTED
When & Where
May SessionCamp Rokilio
Saturday 05-14-2022 8:00 AM CT to
Sunday 05-15-2022 11:00 AM CT
Past