2019 Individual Scout Sales Report
Event Details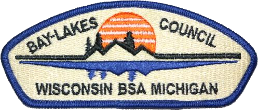 2019 Bay-Lakes Council Popcorn Sale – Individual Scout Sales Report
FORM PURPOSE
All units are required to enter their Scout's sale totals to be eligible for prizes, bonus prizes, top seller awards, chance to win the $250 Amazon Gift Card and more. Units will choose their prize program through this form.
This form is used to submit the total sales for your Scouts, regardless of sales amounts. Total sales are the combination of Show and Sale, Take Order, and Online Sales at the completion of the sale. You will need a list of individual Scout sales by name to complete this form. Please note that Bay-Lakes Council policy requires Scouts to be entered and recognized individually for their sales. Please do not combine Scout sales.
Enter each Scout's name and the amount of popcorn in US dollars he or she sold. All entries must be done by midnight of November 4, 2019.
Winner of the Amazon Gift Card will be announced on November 15, 2019. The kernel of the winning Scout will be notified by email and phone
FORM INSTRUCTIONS
1) Click Register
2) From the drop down select number of "Qualifying Scouts", qualifying Scouts equals number of Scouts that sold popcorn in your unit
3) On the next screen fill in your name and email
4) On the next screen must click "update information" this is where you choose your unit number and prize selection i.e Keller Prize Program or extra 3% commission
5) On the next screen this is where you will enter the Scout name and sale total. Sales total includes Show and Sell, Take Order, Online and Military donations
6) Make sure to click the green "Book Registration" to process your entries.
7) You will receive an email confirmation
ADDITIONAL INFORMATION REQUIRED
If participating in the prize program (not 3% additional commission), after completing this form, you must visit https://boyscouts2019fall.promocheckout.com/ and use Keller Key: 635blc to order prizes and/or gift cards.
NOTE: Even if your unit is doing 3% commission over prizes, your Kernel will need to go to the Keller Prize Order Entry Link above to order popcorn patches.
**Please note there is no cost/fee to enter this information**
When & Where
Center for Scouting - Service Center
Friday 10-18-2019 12:00 AM CT to
Wednesday 11-13-2019 11:59 PM CT
Past