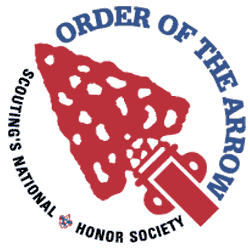 The Lodge Executive Committee of Takoda Lodge of the Order of the Arrow invites you and your family to join us for our annual Winter Banquet.
This time of food and fellowship is our opportunity to recognize those who have gone above and beyond in their service to the Lodge and Council, as well as welcome our new brothers who have been inducted over the past year.
The banquet will consist of exciting features such as a live and silent auction, Lodge awards and recognition, guest speakers, and a full banquet style meal. The Lodge trading post will be open as well!
Winter Banquet will be held at the Howard Johnson Plaza Hotel (3814 E. Washington Ave, Madison, WI 53704).
COST: $20 per person
5:00 p.m. - Social Hour (Silent Auction Opens)
6:00 p.m. - Dinner
Numerous awards, recognition, and guest speakers will be presented throughout the dinner, with a live auction ending the evening.
Appetizers (served during Social Hour):
- Cheese, Sausage, and Cracker Platter
Dinner Menu:
- Tossed Salad w/Dressing
- Sliced Ham
- Garlic Mashed Potatoes
- Corn
- Rolls
- Coffee & Milk
- Cake (Made by the OA Cook Crew)
6:30 Lodge Speakers
7:30 Live Auction (Silent Auction Closes)
----------------------------------------------------------------------
Get Your Phoenix Membership for Winter Banquet HERE!
Lodge members are encouraged to purchase a Phoenix Membership. This premium membership will cover your annual dues, get you into Lodge events, and more. For one fee, you can pay your 2018 dues and get into three major Lodge events at a discounted rate. All Phoenix members will be given a limited edition 2018 Phoenix Membership Lodge Flap to signify their premium Lodge membership. Adult Phoenix Members also make a $25 tax-deductible contribution to the Lodge.

Pricing:
Youth Phoenix Membership ($75) includes:
2018 Dues
2018 Winter Banquet
2018 Fall Conference
2018 Spring Conference
Limited Edition 2018 Phoenix Member Lodge Flap
Adult Phoenix Membership ($100) includes:
2018 Dues
2018 Winter Banquet
2018 Spring Conference
2018 Fall Conference
Commemorative 2018 Phoenix Member Lodge Flap
$25 tax-deductible Lodge contribution
Both standard 2018 Lodge dues and 2018 Phoenix Membership fees may be paid online.

*Phoenix Membership does NOT include registration to Section Conclave, to other Section/Region/National events, or to any Lodge events not listed above.
Nick Rose
Takoda Lodge Staff Adviser
nicholas.rose@scouting.org
608.322.0908

Ron Last
Associate Lodge Adviser-Activities
last1@sbcglobal.net

John Gunyon
OA Lodge Adviser
jgunyon@charter.net

Jean Peteren
Event Registrar
jmpeter2@wisc.edu

Madison Scout Service Center
5846 Manufacturers Dr
Madison, Wisconsin 53704
Phone: 608-273-1005