OA Spring Conference 2019
Event Details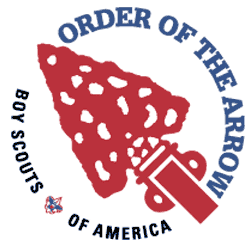 Annual Order of the Arrow Spring Conference at Ed Bryant Scout Reservation.
This is our PREMIERE Event in Bigfoot Lodge. If completing your Ordeal, Brotherhood, or Vigil this is the time you WANT to do it! Register Now!
Let us again congratulate you on having been selected for membership in the Order of the Arrow, Scouting's Brotherhood of Honor Campers. Your fellow Scouts have thought enough of you to elect you to this honor. Now, the next step is up to you. To become a member of our Order, you must participate in the Ordeal Ceremony. This 24-hour ceremony will be a unique experience in your life - one that will remain in your memory for many years.

The ORDEAL, your induction into our Order, does not use embarrassment, games or similar activities. The purposes of the Order of the Arrow, and the fact that it is an honor to which you were selected, imposes on our lodge the responsibility of making sure that your initial contact with us is serious and impressive.

Each ordeal candidate has one year from his election to participate in the Ordeal Ceremony. If you do not attend, your election will be void and you would need to be re-elected another year.
Brotherhood Candidates - The Brotherhood Hike will seal your Brotherhood Process. It is not a test but a guided reflection on what it is to be an Arrowman and the future. The evening closes with the Brotherhood Ceremony. You must be current on your 2019 dues. If you have not paid them use the link below to complete that payment. Annual dues are $15 a year.
To pay your 2019 dues please follow this link: https://scoutingevent.com/620-2019oadues
The weekend features Ordeal and Brotherhood inductions, short trainings, and plenty of fun & fellowship.
All Brotherhood Candidates and Returning Arrowmen MUST have their 2019 dues paid in order to attend.
This year the Lodge will be working on installing features in our new ceremonial bowl, COPE wall, and a few other odds and ends for service. As always we will have light duty service planned for our older Arrowmen and those that require it. The fun activity after service is a Battle Bot event and Drone Racing! Of Course shooting sports, ATV, Jet Ski, and more will be open for returning members after service. If interested in ATV or Jet Ski use please complete the DNR required training online and bring along certification.
When & Where
OA Spring ConferenceEd Bryant Scout Reservation
Friday 06-07-2019 5:30 PM CT to
Sunday 06-09-2019 11:00 AM CT
Past