Event Details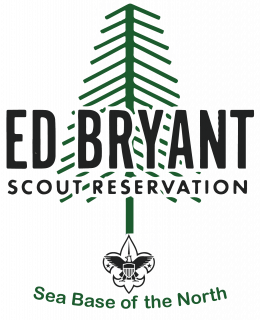 JOIN US FOR SUMMER CAMP AT EBSR!!!!
Week #1 - June 20 - 26
Week # 2 - June 27 - July 3
Week #3 - July 4 - 10
Week #4 - July 11 - 17
Week #5 - July 18 - 24
Established in 1956, Ed Bryant Scout Reservation was constructed specifically to serve Scouts of what is now the Glacier's Edge Council. Today, Scouts from all over the United States attend one of the 5 weeks of summer camp. Our 214 acre property is nestled along the banks of beautiful Castle Rock Lake, not far from Mauston, Wisconsin and the Wisconsin Dells. We offer a diverse set of programs, quality facilities, and a dedicated staff committed to outstanding service to Scouts and Scouters.
Early Bird Youth Camp Fee: $330 if paid by March 31st
Regular Youth Camp Fee: $350 if paid by April 30th
Late Youth Weekly Camp Fee: $375 if paid after May 1st
Youth Weekly Crossover Camp Fee: $315
Adult Weekly Camp Fee: $120
Daily Youth Camp Fee: $70/day
Daily Adult Camp Fee: $20/day
Complimentary Adult Registrations:
Units receive One complimentary Leader registration with the first four Scouts attending camp.
With 8 or more Scouts attending camp, Units recieve 2 complimentary Leader registrations.
Campsite Matrix
Campsite availability is shown in real time for each session of camp.
Badger
(capacity: 2 units, 50 attendees)
Week 2
145 YA
13
Week 3
44 WR
8
Week 4
506 BT
22
Week 5
522 THC
27
Bear
(capacity: 2 units, 50 attendees)
Week 2



173 WR
247 WR
68 WR
7768 WR
9
8
9
8
Week 3
239 IT
27
Week 4

619 IT
99 YA
20
11
Week 5

111 THC
38 TFC
7
22
Bigfoot
(capacity: 2 units, 50 attendees)
Week 2

620 IT
81 WR
18
11
Week 3


841 BLC
29 YA
34 YA
20
7
8
Week 4



126 BAC
126 BAC
181 BAC
131 YA
16
10
21
8
Week 5

393 THC
47 YA
15
30
Deer Camp
(capacity: 2 units, 50 attendees)
Week 2

141 BAC
203 GAC
20
9
Week 3
62 WR
9
Week 4
333 YA
50
Week 5

151 BAC
8 BLC
24
20
Eagle
(capacity: 2 units, 50 attendees)
Week 2
132 YA
20
Week 3
164 YA
18
Week 4
349 MO
25
Week 5
724 BLC
24
Oak
(capacity: 1 unit, 25 attendees)
Week 1
321 PAC
11
Week 2
9316 IT
1
Week 3
235 IT
14
Week 4
Week 5
411 BAC
13
Osprey
(capacity: 2 units, 45 attendees)
Week 2
Week 3
Week 4
155 YA
24
Week 5
Pine Cone
(capacity: 2 units, 30 attendees)
Week 2
859 LS
24
Week 3

9313 NSS
9344 NSS
10
16
Week 4
516 IT
17
Week 5

1019 BLC
127 YA
8
23
Sand Hill
(capacity: 2 units, 50 attendees)
Week 2
7040 MO
21
Week 3
122 MO
17
Week 4

3 PTAC
372 THC
10
12
Week 5
336 THC
21
Sasquatch
(capacity: 1 unit, 20 attendees)
Week 1
Week 2
Week 3
Week 4
Week 5
Timber Wolf
(capacity: 2 units, 75 attendees)
Week 2



70 WR
7060 WR
7070 WR
7474 WR
20
4
3
1
Week 3
38 WR
11
Week 4

1173 BLC
180 BAC
3
11
Week 5
222 THC
27
Wild Wood
(capacity: 2 units, 60 attendees)
Week 2

134 YA
7041 YA
11
8
Week 3

16 MO
61 MO
28
9
Week 4

539 THC
332 THC
24
22
Week 5
249 MO
7
Wildcat
(capacity: 2 units, 60 attendees)
Week 2
33 TFC
40
Week 3
147 YA
8
Week 4
4066 PTAC
22
Week 5

380 THC
765 BLC
6
31
Woodman
(capacity: 2 units, 75 attendees)
Week 2
Week 3
225 THC
12
Week 4

514 IT
142 THC
17
26
Week 5
Yeti
(capacity: 1 unit, 50 attendees)
Week 1
422 IT
9
Week 2


53 YA
7313 NSS
7444 WR
10
13
6
Week 3

105 THC
228 THC
5
8
Week 4
146 YA
16
Week 5
334 THC
18
Eagle
(capacity: 2 units, 50 attendees)
Week 1
884 GSLAC
11
Sand Hill
(capacity: 2 units, 50 attendees)
Week 1
701 BLC
17
Osprey
(capacity: 2 units, 45 attendees)
Week 1
102 MO
8
Wildcat
(capacity: 2 units, 60 attendees)
Week 1
634 TL
13
Badger
(capacity: 2 units, 50 attendees)
Week 1


47 THC
7077 WR
77 WR
18
3
10
Timber Wolf
(capacity: 2 units, 75 attendees)
Week 1
87 MO
18
Bear
(capacity: 2 units, 50 attendees)
Week 1
114 BAC
7
Bigfoot
(capacity: 2 units, 50 attendees)
Week 1
74 WR
13
Deer Camp
(capacity: 2 units, 50 attendees)
Week 1

46 MO
53 WC
31
12
Wild Wood
(capacity: 2 units, 60 attendees)
Week 1
580 THC
12
Pine Cone
(capacity: 2 units, 30 attendees)
Week 1

615 IT
621 IT
9
10
Woodman
(capacity: 2 units, 75 attendees)
Week 1
801 LS
27
LEGEND
No units or participants registered for campsite
Campsite is reserved but has room for additional unit(s)
Campsite has reached unit or participant limit
When & Where
Week 1Ed Bryant Scout Reservation
Sunday 06-20-2021 1:00 PM CT to
Saturday 06-26-2021 12:00 PM CT
Past
---
Week 2Ed Bryant Scout Reservation
Sunday 06-27-2021 1:00 PM CT to
Saturday 07-03-2021 12:00 PM CT
Past
---
Week 3Ed Bryant Scout Reservation
Sunday 07-04-2021 1:00 PM CT to
Saturday 07-10-2021 1:00 PM CT
Past
---
Week 4Ed Bryant Scout Reservation
Sunday 07-11-2021 1:00 PM CT to
Saturday 07-17-2021 12:00 PM CT
Past
---
Week 5Ed Bryant Scout Reservation
Sunday 07-18-2021 1:00 PM CT to
Saturday 07-24-2021 12:00 PM CT
Past