BSA Kayak Merit Badge Outing
Event Details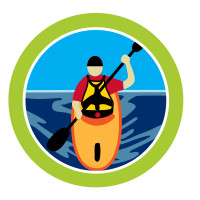 All ORVC Scouts BSA are invited to join us for a ride down Big Wheeling Creek and earn the Kayaking Merit Badge.
Boats, paddles and required personal floatation device will be provided for up to 10 scouts.
In order to participate in the evening float, scouts must have passed the BSA swim test. You may do this with the help of your Scoutmaster. You must have proof of passing this test to participate in this event.
The event will meet at Southpaw Outfitters, 2216 Natonal Road, in the Elm Grove section of Wheeling. After the dry part of kayak lesson, we will caravan out to the location on Big Wheeling Creek where we will put in our kayaks and paddle back to Southpaw.
Kayak Lesson & Float
Date: Wednesday, June 2, 2021
Time: 6:00 pm to approximately 9:30 pm
Where: Southpaw Outfitters
Cost: $18
When & Where
Southpaw Outfitters LLC
Wednesday 06-02-2021 6:00 PM ET to 9:30 PM ET