Event Details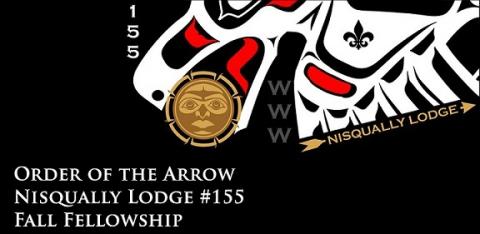 Join Us for the 2018 Fall Fellowship
Fall Fellowship is our big party and thank you for a year of service to our Council, camps, and units. This year's theme is NisquallyCon - The Hero Within. Scouts can dress up as video game and comic book characters with a Scouting twist. Costumes should have some type of Scout related item incorporated with it, such as their OA sash, fleur de lis, etc. All are encouraged to partcipate, including adults. For meals, plan on touring the world!
There will be an assortment of games and activities, classes (such as ceremonies training, elangomat training, etc...), and most importantly, our Lodge and Chapter elections!
It is guaranteed to be fun and unpredictable. Since it is close to Halloween, we will also have a ton of candy and a costume contest on Saturday night. Participants should be prepared to explain how their costume is a hero to them. Prizes will be awarded to best costumes in a variety of categories. This is a great time to come meet your fellow Arrowmen!
Possible Featured Activities
Hungry Hungry Hippos, Board Games, Table Tennis, Spike Ball, and more.
Pumpkin Carving
Costume Contest
Scavenger Hunt
Ice Cream and Candy
Brotherhood Ceremony
Lodge and Chapter Elections
Ceremonies Certification
Ceremony Team Advisors

Also unveiling at the Fall Fellowship will be the Nisqually Lodge 2019 Annual Pass (patch included). The Annual Pass will admit you to all the Lodge calendared events. It also covers your 2019 dues. This year's patch is the third of a three-piece set celebrating our 25th Anniversary in 2019.
Packing List
Participants will be staying in cabins during the weekend. Activities will be outside and inside so dress appropriately. The outdoor activities will happen rain or shine so come ready to get a little muddy! You should have your Scout uniform and sash as well.
Lodge Dues
Did you know that in order to stay in good standing within the Order of the Arrow, you need to renew your Lodge Dues annually? The Lodge recharters just like your unit. If you want to be counted as a member and wear the Lodge flap, please pay your Lodge dues! You have most of the calendar year to pay and starting at the Fall Fellowship, you can pay for the next year. Our final registration numbers each year determine a host of items including the number of Vigil Honors, Awards, and Scholarships we can put forth. Lodge dues are $20.
Trading Post Open!
The OA Trading Post will be open with black Nisqually Lodge t-shirts, red OA sash work t-shirts, patches, and other goodies all weekend. The Fall Fellowship will also be the first opportunity to purchase the 2019 Annual Pass. Make sure to bring extra cash for this. We will also be accepting credit cards once again.
Event Check-in begins at 6 p.m. Friday
Check-out between 10 a.m. - 11 a.m. Sunday
Hope You Join Us For This Fantastic Weekend Of Fellowship!
*If you have been an Ordeal member for at least 10 months, you are eligible to advance to the Brotherhood Honor. Talk to you Chapter Chief or Chapter Advisor for more information and for how to prepare.
http://www.nisqually155.org/
https://www.facebook.com/groups/nisqually155/

When & Where
Camp Thunderbird
Friday 10-26-2018 3:00 PM PT to
Sunday 10-28-2018 12:00 PM PT
Past