Fire Mountain Friday Night Chicken Dinner 2020
Event Details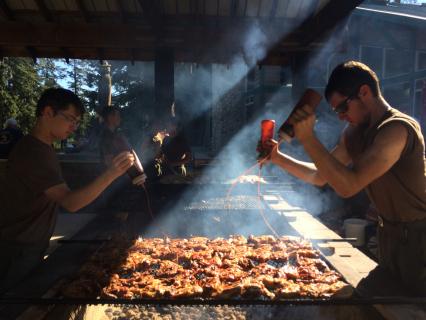 THE WORLD-FAMOUS FIRE MOUNTAIN CHICKEN BBQ
Each Friday evening during summer camp, families and guests are welcome to join attending troops at Fire Mountain for an outstanding outdoor chicken BBQ, followed by the closing campfire program. Friday's BBQ is set for 6:30 p.m. to accommodate for Friday traffic. Meal service ends at 7:15 p.m.
Reservations must be completed online by noon on the Tuesday prior to each Friday dinner to ensure adequate supplies are ordered. Credit card or eCheck accepted when you checkout.
Note: The trail into camp begins midway down the parking lot. Be sure to wear appropriate shoes for the 1/4 mile walk as vehicles are not allowed in camp.
When & Where
Scouts BSA - Week 1 Chicken DinnerFire Mountain Scout Camp
Friday 07-10-2020 6:30 PM PT to 8:00 PM PT
---
Scouts BSA - Week 2 Chicken DinnerFire Mountain Scout Camp
Friday 07-17-2020 6:30 PM PT to 8:00 PM PT
---
Scouts BSA - Week 3 Chicken DinnerFire Mountain Scout Camp
Friday 07-24-2020 6:30 PM PT to 8:00 PM PT
---
Scouts BSA - Week 4 Chicken DinnerFire Mountain Scout Camp
Friday 07-31-2020 6:30 PM PT to 8:00 PM PT
---
Scouts BSA - Week 5 Chicken DinnerFire Mountain Scout Camp
Friday 08-07-2020 6:30 PM PT to 8:00 PM PT