2019 Fire Mountain Summer Camp
Event Details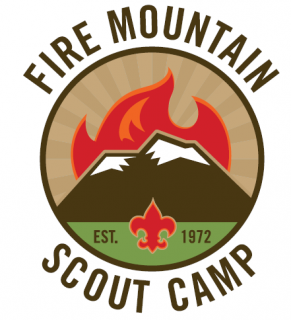 We are excited to have you with us for summer camp at Fire Mountain!
Below are some key dates and information for your reservation.
2019 Fees

Early bird

Regular

Late

Reservation Fee

$250 (Applied to first payment. See payment schedule.)

Male youth in council

$360

$380

$390

Male youth out of council

$375

$395

$405

Adult leaders

$150/week

$35/day

$150/week

$35/day

$150/week

$35/day

New Scouts BSA girl camper (no out of council surcharge)

N/A
$180
N/A
2019 Payment Schedule

Payment Type

Date

$250 reservation deposit per troop (non-refundable after 12/31/18)

Due with reservation

Scout Deposit - $25/Scout non-refundable ($250 reservation deposit allotted to this payment for first 10 Scouts.)

Due by February 15, 2019

First payment – $155/Scout, $75/Adult

Due by April 1, 2019

Final payment for early bird discount– Remainder of balance for all Scouts and Adults

Due by May 15, 2019

Regular Fee

May 16, 2019 - midnight prior to camp check-in

Late Fee

At camp check-in
Online Payment Options
Credit/Debit Card: We accept Visa, MasterCard, American Express and Discover. There is a 3% convenience fee added at checkout.
eCheck: If you or your unit uses a checking or savings account, you can use this option to pay online for camp. Enter the bank routing number and your account number. Note that a $35 processing fee is added for all returned NSF eChecks and that this payment type is not available within 5 days of event start.
Unit Account: If you would like to use your unit account, you can contact our office at (425) 338-0380 or stop in one of the Service Centers. The store clerks will provide us with a receipt and we will then apply your payment. Note that this method is not instantly entered into your account. For Mount Baker Council units only.
Council discounts apply to one individual per event. (i.e. FOS discounts and Opportunity Fund grants may not be combined.)
Registrations must be current per the payment schedule in order to select merit badges when sign-ups open at the end of May.
When & Where
Week 1 (July 7 - July 13)Fire Mountain Scout Camp
Sunday 07-07-2019 1:00 PM PT to
Saturday 07-13-2019 10:00 AM PT
Past
---
Week 2 (July 14 - July 20)Fire Mountain Scout Camp
Sunday 07-14-2019 1:00 PM PT to
Saturday 07-20-2019 10:00 AM PT
Past
---
Week 3 - Monday start (July 22 - July 27)Fire Mountain Scout Camp
Monday 07-22-2019 6:30 AM PT to
Saturday 07-27-2019 10:00 AM PT
Past
---
Week 4 (July 28 - August 3)Fire Mountain Scout Camp
Sunday 07-28-2019 1:00 PM PT to
Saturday 08-03-2019 10:00 AM PT
Past
---
Week 5 (discounted week) (August 4 - August 10)Fire Mountain Scout Camp
Sunday 08-04-2019 1:00 PM PT to
Saturday 08-10-2019 10:00 AM PT
Past
---
Week 6 (discounted week) (August 11 - August 17)Fire Mountain Scout Camp
Sunday 08-11-2019 1:00 PM PT to
Saturday 08-17-2019 10:00 AM PT
Past