2021 Adventure Week at Fire Mountain
Event Details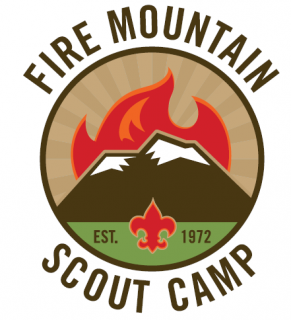 Welcome to
ADVENTURE WEEK at
Fire Mountain Scout Camp!
Monday, July 5 - Saturday, July 10, 2021
The first week of camp is Adventure Week. It provides the opportunity for individual Scouts to come up to Fire Mountain and enjoy one area of camp for their whole stay.
We will be offering 5 adventures this summer. Each Scout will register for the adventure that catches their imagination and meets their needs on their Trail to Eagle.
Each adventure will present a unique experience, provide the opportunity to earn a group of merit badges, and go beyond the requirements to offer a greater challenge.
Scouts can choose between:

Aquatics Adventure: The Aquatics Adventure will offer the Swimming and Lifesaving merit badges along with Canoeing, Kayaking and Small-Boat Sailing. Besides spending your day IN and ON our beautiful lake, we will provide an opportunity to spend a day boating on larger water in our local Puget Sound region.
Pre-Requisite: Scout must have ability to pass the BSA Swim Test.
COPE & Climbing Adventure: Do you like High Adventure? Climb to the highest heights, balance on the top of a pole, and hang out at the peak of the vertical playground. This is an incredible way to earn your Climbing merit badge - and go beyond into a full week of Challenging Outdoor Personal Experiences. You'll spend your week in the air above camp - only occasionally touching the ground.
Shooting Sports Adventure: Love things that go BOOM? Have we got a deal for you! Along with the Rifle Shooting and Shotgun Shooting merit badges, you will be able to compete at our Cowboy Action range and complete Hunter Safety Certification. As a special treat, you will travel down to a gun range for some exciting competitive activities.
Pre-Requisite: Scout must be at least 14-years old
Survival Adventure: Prepare to rough it for the week. While learning Orienteering, Pioneering, Wilderness Survival, and Archery; you will learn advanced survival skills and complete a true Wilderness Survival overnighter in camp's back country. Scouts will be fed, but they may have to find some of their own ingredients in the wild. Parents… "Be Prepared" to take clothing directly from camp to the nearest laundro-mat!
EagleQuest Adventure: Concentrate on reaching towards YOUR Eagle Rank. Select up to 4 Eagle-Required merit badges to work on during your week, including:
Citizenship in the Community, in the Nation and in the World

Communications

Emergency Preparedness

Personal Fitness

Personal Management
So that you can successfully complete your selected merit badges we will provide an opportunity for you to work with the merit badge counselors both before and after Adventure Week. Beyond the badges, we will offer seminars on:
The Life to Eagle Process

Planning your Eagle project

Planning your Court of Honor

Scouting beyond Eagle

Scouting as a Career
2021 Fees for
Fire Mountain Scout Camp

Early bird
if Paid in Full by 6/15/21

Regular Fee
if paid after 6/15/21 and by midnight the day prior to camp.

Late
if paid in full at camp check-in.

Youth in council

$370

$390

$410

Youth out of council

$390

$410

$430

2nd- week camper

50% of fee

50% of fee

50% of fee
**In-council rates extended for troops from Pacific Harbors Council, Grand Columbia Council and Blue Mountain Council.
Payment options: All payments are made online through your registration.*
(No payments over the phone or through the mail.)
eCheck: If you or your unit uses a checking or savings account, you can use this option to pay online for camp. Enter the bank routing number and your account number. Note that a $35 processing fee is added for all returned NSF eChecks and that this payment type is disabled within 5 days of the event start.

Credit/Debit Card: We accept Visa, MasterCard, American Express and Discover. There is a 3% convenience fee added at checkout.
*In certain circumstances, an in-council unit may be able to use funds from their unit trading post account. Please contact the Mount Baker Council office in Everett to inquire.
2021 Payment Schedule

Payment Type

Date


Registration Payment - $125/Scout

*Deposits paid for canceled Scouts do not transfer to the bottom line but can be transferred to a new attendee.

Due at time of Registration


2nd Installment - $125/Scout


Due 5/15/21


Final payment for Early Bird discount–
Remainder of balance for Scout



Due by 6/15/21 for early bird price!

Regular Fee due in full


6/16/21 12:00AM until 12:30PM prior to camp check-in



Late Fee due in full



If paid at
camp check-in
When & Where
Aquatics AdventureFire Mountain Scout Camp
Monday 07-05-2021 9:00 AM PT to
Saturday 07-10-2021 10:30 AM PT
Past
---
COPE and Climbing AdventureFire Mountain Scout Camp
Monday 07-05-2021 9:00 AM PT to
Saturday 07-10-2021 10:30 AM PT
Past
---
EagleQuest AdventureFire Mountain Scout Camp
Monday 07-05-2021 9:00 AM PT to
Saturday 07-10-2021 10:30 AM PT
Past
---
Shooting Sports AdventureFire Mountain Scout Camp
Monday 07-05-2021 9:00 AM PT to
Saturday 07-10-2021 10:30 AM PT
Past
---
Survival AdventureFire Mountain Scout Camp
Monday 07-05-2021 9:00 AM PT to
Saturday 07-10-2021 10:30 AM PT
Past