2020 Fire Mountain Scouts BSA Summer Camp
Event Details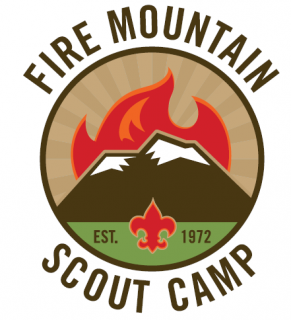 WELCOME to
Fire Mountain Scout Camp!
Register your troop starting September 1, 2019!
2020 Schedule:
Week 1: July 5 - 11

Week 2: July 12 - 18



Week 3: July 19 - 25





Week 4: July 26 - Aug 1





Week 5: Aug 2 - 8
Week 6: Aug 9 - 15

No trip to summer camp would be complete without the classic Scoutmaster Cobbler, cooked in a Dutch Oven over charcoal briquettes. When you come to Fire Mountain next summer travel in style with your personalized Fire Mountain Dutch Oven Tote. Keep your cast iron clean and dry in camp, or keep the soot and mess safely contained until cleaned and seasoned. Show all your friends that you're a Fire Mountain Troop in 2020!

Any unit that signs up for camp before September 30, 2019 will receive a personalized Dutch Oven Tote Bag!
2020 Fees

Reservation Fee

$250 (Applied to first payment.)

Youth in council**

$370

Youth out of council

$390

2nd-week camper

50% of fee

Adult leaders

$150/week

$35/day
**In-council rates extended for troops from Pacific Harbors Council, Grand Columbia Council and Blue Mountain Council.

NEW UNIT discount! All Scouts BSA troops formed in Mount Baker Council since July 1, 2019 will receive a $100/Scout discount for summer camp at Fire Mountain!

4/22/20 UPDATE:
We understand that in these uncertain times, it can be difficult to make long term plans that may or may not come to pass. To be as supportive as possible to all our guests this summer, the Council is announcing the following updates to our camp fees and refund policy:
Fire Mountain Scouts BSA Resident Camp
The only fee to attend Fire Mountain in 2020 shall be the early-bird fee of $370 for in-council units/$390 for out-of-council units regardless of when the full payment is made. All increases as part of the original payment schedule have been waived.
Help us to be prepared – Scout and Adult registration count due by June 1. Availability of Merit Badge supplies, trading post items, camp patches, and many more items depend on accurate counts of both youth and adult participants.
2020 Camping Programs Refund Policy
We understand that just now it can be difficult for a family to commit funds to a program that may be canceled or otherwise interrupted by circumstances out of any control. To help support our Scouting families, the Council has made the following commitments as a part of our refund policy:​
If Mount Baker Council determines that the summer season must be canceled, 100% refunds of camp fees will be issued.

The council will consider individual family or unit cancellations due to COVID-19 related concerns to be eligible for a 100% refund under our emergency circumstances policy. To apply for an emergency refund, please contact our Scout Executive at kevin.nichols@scouting.org.

Payment options: All payments are made online through your registration.* (No payments over the phone or through the mail.)
eCheck: If you or your unit uses a checking or savings account, you can use this option to pay online for camp. Enter the bank routing number and your account number. Note that a $35 processing fee is added for all returned NSF eChecks and that this payment type is disabled within 5 days of the event start.

Credit/Debit Card: We accept Visa, MasterCard, American Express and Discover. There is a 3% convenience fee added at checkout.
*In certain circumstances, an in-council unit may be able to use funds from their unit trading post account. Please contact the Mount Baker Council office in Everett to inquire.
2020 Payment Schedule

Payment Type

Date


$250 reservation deposit per troop
(non-refundable after 12/31/19)

Due with reservation
9/1/20 – 1/1/20


Scout Deposit - $25/Scout non-refundable*
(For reservations made prior to Jan 1, your $250 reservation deposit is allotted to this payment for first 10 Scouts.)
For <10 Scout, minimum deposit is $250.
*Deposits paid for canceled Scouts do not transfer to the bottom line but can be transferred to a new attendee.

1/1/20 - 2/15/20


Family commitment - $75/Scout and adult


2/15/20 - 3/15/20

Fee due in full

7/10/20
When & Where
Week 1 (July 5 - 11)Fire Mountain Scout Camp
Sunday 07-05-2020 1:00 PM PT to
Saturday 07-11-2020 10:00 AM PT
Past
---
Week 2 (July 12 - 18)Fire Mountain Scout Camp
Sunday 07-12-2020 1:00 PM PT to
Saturday 07-18-2020 10:00 AM PT
Past
---
Week 3 (July 19 - 25)Fire Mountain Scout Camp
Sunday 07-19-2020 1:00 PM PT to
Saturday 07-25-2020 10:00 AM PT
Past
---
Week 4 (July 26 - August 1)Fire Mountain Scout Camp
Sunday 07-26-2020 1:00 PM PT to
Saturday 08-01-2020 10:00 AM PT
Past
---
Week 5 (August 2 - 8)Fire Mountain Scout Camp
Sunday 08-02-2020 1:00 PM PT to
Saturday 08-08-2020 10:00 AM PT
Past
---
Week 6 (August 9 - 15)Fire Mountain Scout Camp
Sunday 08-09-2020 1:00 PM PT to
Saturday 08-15-2020 10:00 AM PT
Past