Blue Ridge Scout Reservation 2023
Event Details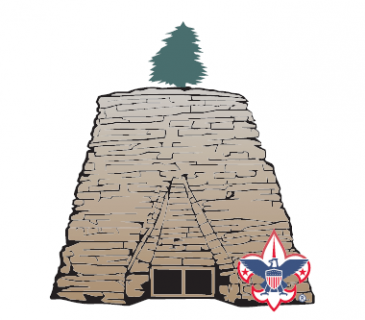 BASE CAMP POWHATAN
Camp Powhatan is the base of operations for the Blue Ridge Scout Reservation. It offers a wide variety of programs for Scouts and BSA Leaders. The campsites are spread out and surround the various program areas. This model offers a small camp atmosphere at each campsite while never being too far from any of the activities your scouts want to do. Scouts have the option to sleep in canvas tents or adirondacks with sites overlooking the lake in Rockridge, nestled along Big Max Creek in "The Maxes", or up the hill in one of our sites above the heart of camp. All campsites have modern shower facilities with individual stalls and hot water. Camp Powhatan features family style dining in the dining hall with hot meals 3 times a day. Attendees with SPECIAL DIETARY needs must complete the Kandal form in attachments at least 2 weeks before your camp week.
Camp Powhatan has a large waterfront offering a variety of merit badges, Mile Swim, a beginner swimming class, blobbing, and open swimming & boating.
In addition to Rifle, Shotgun, and Archery Merit Badges, the shooting ranges offer an open-shoot for Scouts and Leaders most evenings as well as special programs including a shooting competition for scoutmasters and Cowboy Action Shooting.
The Camp Powhatan Nature Center offers a variety of merit badges throughout the day and various evening programs including the Nature Show where scouts can get up close and personal with the animals as they learn about their habitats and the roles they play in their respective ecosystems.
The Handicraft and Scoutcraft areas offer a range of merit badges based in craftsmanship and outdoor skills. Both areas also offer evening programs including merit badges and other activities.
The Eagle's Nest is our newest and one of our most popular areas featuring Eagle Required Merit Badges during the day and evening programs geared toward scouts on the trail to Eagle as well as opportunities for Eagle Scouts to engage in fellowship.
Brownsea Island is our signature First Year Scout program aimed at our newly bridged 10-12 year old scouts and focuses on rank advancement within Scout, Tenderfoot, Second Class, and First Class Ranks. These scouts will have the opportunity to finish their week at camp with up to 4 merit badges and will be set up to rapidly advance through the remaining requirements when they return home from camp.
Camp Powhatan also hosts High Adventure Scouts (14+) in several different High Adventure programs: New River Adventure, Claytor Lake Aquatics Base, High Knoll, Canoe the New, and Blue Ridge Mountaineer. All of our High Adventure programs are provisional, meaning that our staff provides the necessary adult supervision and maintains YPT guidelines, so Scouts may attend even if they do not have an accompanying adult leader, although adults are always welcome!
Camp Powhatan's modern health lodge is staffed 24-hours a day by qualified personnel for treating minor issues including illnesses and injuries as well as teaching the First Aid and Public Health Merit Badges.
Camp Powhatan's Trading Post offers many items one may have forgotten to bring as well as a variety of Camp Powhatan and Blue Ridge Scout Reservation branded items. The Trading Post also has a snack bar offering cold drinks, ice cream, and hot food as well as a yard with outdoor games such as carpetball, horseshoes, and gaga ball. The Trading Post also houses the Scoutmaster's Lounge, where adult leaders can relax in the air conditioning, nap, get coffee (24/7), and engage in fellowship with other leaders from around the nation.

NEW RIVER ADVENTURE
New River Adventure & Claytor Lake Aquatics Base have teamed up this summer to create one bigger & better program for you!
Come explore all of the wet & dry adventures that the New River has to offer in the New River Valley VA, Claytor Lake VA, & the New River Gorge, WV. All Scouts begin the week with a day of Low COPE (challenge course) where they get to know their fellow scouts and staff from around the country and our staff gets to know them. The remaining 4 days are spent doing their choice of High Adventure activities. Scouts can spend the week in the water with programs such as Whitewater Canoeing, Whitewater Rafting, and Personal Watercraft (jet skis), motorboating, wakeboarding, tubing, and small boat sailing. Or, they can spend the week above, below, and on the ground with programs including High COPE (ropes course), Rock Climbing, Caving, Horseback Riding, & ATVs. Please note: ATV participants must take the online ASI e-course training linked on Black Pug before coming to camp. Scouts can mix and match activities and spend the week doing a combination of wet and dry activities in and around the New River of Virginia and West Virginia. New River Adventure also offers a week-long SCUBA course in which scouts can earn their PADI open water diver certification, which can be used for additional programs both in and outside the BSA including Florida Seabase.
Several of these programs have age restrictions or other prerequisites so be sure to check out the New River Adventure program guide to learn more and make sure scouts are eligible for the programs they want to do! Daily program selections for participants in New River Adventure and Claytor Lake may be made on Black Pug before coming to camp.
BLUE RIDGE MOUNTAINEER
Step back in time and enter the world of the Blue Ridge Mountaineer. This primitive camping, living history camp gives scouts unique opportunities to experience the days of yore. In the 18th century, the mountains that are now our camp were trapped and hunted by longhunters who spent months at a time in the wilderness. Wagons and horses traveled the famous Wilderness Road, bringing explorers and settlers to nearby Newbern, Radford, and Christiansburg forming what now serves as main street in each of these modern towns. Ingles Ferry served as an important rest stop, as travelers on the Wilderness Road paused to cross the New River. In the 19th century, as the New River Valley filled up with farms, our mountains held families of lean, tough, Scots-Irish and German settlers who cut timber, cleared hardscrabble farms, and fed their families with the game that they hunted. They made their own tools and clothes. They learned the skills of blacksmithing, leatherworking, and finger weaving. They started fires without matches. They cooked their food over the open fire. A muzzle-loading rifle was the trusted tool for hunting and defense. Come spend the week trying your hand at living the life of a Blue Ridge Mountaineer where you will learn these skills and more at our Blue Ridge Rendezvous, while unplugging and sharing in the camaraderie, music, and root beer at the Tavern!
CANOE THE NEW (VOYAGEUR TREK)
For nearly 300 years, the French fur trade was dominated by two groups of people: the coureurs de bois or "wood-runners" and the voyageurs or "travelers." While the coureurs de bois learned Indian ways and trails to assist with their fur trade, the voyageurs were experts in knowledge of waterways, shooting the rapids, and portaging heavy loads. The voyageur, who was slurred as a "pork eater" by the coureur de bois, was a vital part of the highly profitable fur trade of the New World. Living on salt pork and dried peas, the voyageur could paddle all day, carry double portage, and sing a rollicking French song all the while. Scouts who participate in Canoe the New will spend the week living the life of the Voyageurs canoeing the New River from North Carolina to Virginia and whitewater rafting in the world famous New River Gorge in West Virginia to earn the BSA 50-miler award.
HIGH KNOLL
If your group is in search of a fun, outdoor adventure, then dust off your boots and tackle the High Knoll Trail, the Blue Ridge Scout Reservation's high adventure backpacking program. After a shakedown and informational session conducted by one of the rangers, your crew will be released to hike our network of over 100 miles of trails crisscrossing the property. Though some crews try to achieve the 50 miler award, most groups hike approximately 7 miles each day before ending up at one of our backcountry camps. These staffed outpost camps offer modern High Adventure programs as well as some "blast from the past" programs that have been popular since we started in 1975. You will have fun, on and off the trail, but keep in mind that these activities require physical fitness due to their vigorous nature. The goal of the program is to provide the best possible backpacking experience with a daily adventure and quality team building experiences. Crews who sign up for High Knoll can speak with our High Knoll Director, Dave Clark, upon arrival to camp on Sunday to arrange their daily outpost schedules based on their preferences.
Summer Camp Fees Prices on this form are all inclusive
CUSTOM TROOP CAMP T-SHIRTS
**Orders are due two weeks prior to the start of your camp week. If you pass this link out to parents ensure everyone chooses the same color shirt. Order shirts here Pasword: CampPowhatan
**** Camp weeks are based on registrations and subject to change. ****
Thinking of working at summer camp next year? Check out the Staff Training Program.
Click here for complete Camp Powhatan information to include leader guides.
Click for Online Registration Help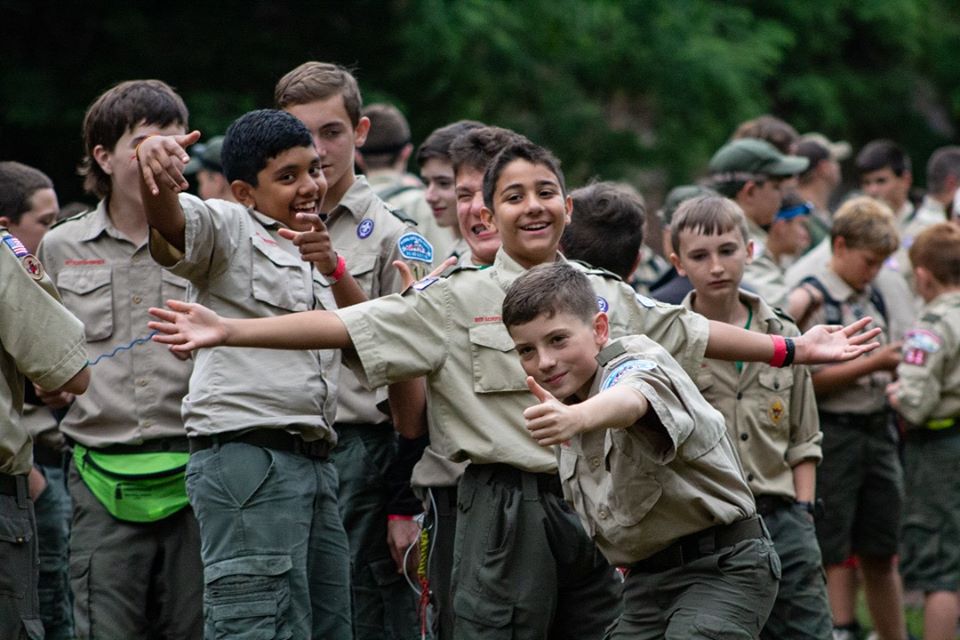 When & Where
Week 1Camp Powhatan
Sunday 06-18-2023 1:00 PM ET to
Saturday 06-24-2023 9:00 AM ET
Past
---
Week 2Camp Powhatan
Sunday 06-25-2023 1:00 PM ET to
Saturday 07-01-2023 9:00 AM ET
Past
---
Week 3Camp Powhatan
Sunday 07-02-2023 1:00 PM ET to
Saturday 07-08-2023 9:00 AM ET
Past
---
Week 4Camp Powhatan
Sunday 07-09-2023 1:00 PM ET to
Saturday 07-15-2023 9:00 AM ET
Past
---
Week 5Camp Powhatan
Sunday 07-16-2023 1:00 PM ET to
Saturday 07-22-2023 9:00 AM ET
Past