2024 Order of the Arrow Dues
Event Details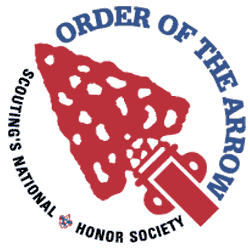 2024 OA Dues Payment Options
Thank you for renewing your annual OA dues. We have a couple of options available for your renewal; standard which is $25, Thunderowl which is $150 and limited to the first 150 people, and Alumni for our non-registered Arrowmen.
We are very excited about the various program weekends, Ordeal weekends, and service opportunities in 2024. By renewing your dues, you are now able to register for these amazing events throughout 2024. Check our website for more information at www.miki.org.
If you are renewing on this site, please be sure you have not already renewed your dues during December Ordeal registration. We do not want you to accidentally pay twice.
If you are supporting your Lodge through an Alumni donation, we are very thankful for fellow Arrowmen like you that are always willing to support your Lodge. This donation will go toward our special projects at Council Camps as well as training opportunities for current Arrowmen. Of which we were able to help over 30 Arrowmen attend trainings this past year.
When & Where
John D. Murchison Scouting Center
Monday 11-27-2023 8:00 AM CT to
Friday 11-15-2024 11:45 PM CT