2023 Winter Training Event
Event Details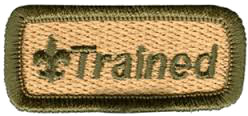 2023 Winter Training Event
Myers Park, McKinney
January 20-21, 2023
Hosted by Iron Horse District
Participants: Adult volunteers/parents (BALOO/IOLS) and Scouts BSA youth (ILST)
Adult Training
Basic Adult Leader Outdoor Orientation (BALOO) is an overnight training event that introduces parents and leaders to the skills needed to plan and conduct Pack outdoor activities, particularly Pack camping. The training includes campsite selection, outdoor event planning, parent involvement, health & safety, equipment, cooking, and an introduction to camping skills.
All Packs are required to have a minimum of one (more recommended) for any and all overnight events.
Online BALOO Prerequisite Training on my.scouting.org is required prior to attending course. Please bring proof of completion.
Cost: $40.00
Check-in: Friday, January 20, 2023 at 6:00 p.m.
Check-out: Saturday, January 21, 2023 at 5:00 p.m.
Introduction to Outdoor Leader Skills (IOLS) provides adult leaders the practical outdoor skills they need to lead Scouts in the out-of-doors. Participants will works as Patrols at this hands-on training. Upon completion, leaders should feel comfortable teaching Scouts the basic skills required to obtain the First Class rank. All Troops are required to have IOLS trained leaders and all SM/ASMs are required to have it to be fully trained.
Cost: $40.00
Check-in: Friday, January 20, 2023 at 6:00 p.m.
Check-out: Saturday, January 21, 2023 at 5:00 p.m.
IOLS Orientation is required for all participants and will be held online via Zoom on January 13, 2023 at 7:00 p.m. Zoom link will be provided after registration.
Youth Training
Introduction to Leadership Skills for Troops (ILST) course teaches Scouts with leadership positions about their new roles and the organizational and leadership skills needed to most effectively reach success in that role. Completion of ILST is a prerequisite for Scouts to participate in the more advanced leadership courses such as National Youth Leadership Training (NYLT).
This course is for every Scout in the troop who holds a leadership position, including all elected positions and any appointed positions at the discretion of the senior patrol leader. In some troops, this might mean that this course is for every Scout!
Required: A Scoutmaster letter of recommendation is required for each participant. All participants must be age 13 years or older.
Cost: $25.00
Check-in: Saturday, January 21, 2023 at 8:00 a.m.
Check-out: Saturday, January 21, 2023 at 5:00 p.m.
Important Information
Cancellation Policy: All cancellations must follow the Cancellation & Refund Policy (see Attachments).
Registration Closes: January 15, 2023 at 11:00 p.m.
This is the deadline to register, add/change participants, update participant information, and complete payment in full. Your registration and payment must be completed in full prior to this date and time to confirm your space in your training.
Required Information
The following information will be requested during registration:
First and Last Name
Allergy, Medical, or Dietary Restrictions
Emergency Contact Name and Cell Number
Documentation Required at Check-in
Arrival Checklist at check-in (one per unit or registration)
Annual Medical Health Record AB
BALOO only: BALOO Prerequisite training certificate
Contacts
When & Where
BALOOMyers Park
Friday 01-20-2023 6:00 PM CT to
Saturday 01-21-2023 5:00 PM CT
Past
---
IOLSMyers Park
Friday 01-20-2023 6:00 PM CT to
Saturday 01-21-2023 5:00 PM CT
Past
---
ILSTMyers Park
Saturday 01-21-2023 8:00 AM CT to 5:00 PM CT
Past