2023 Spring ILST (hosted by Northern Trail)
Event Details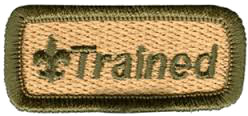 Introduction to Leadership Skills for Troops (ILST)
Camp Wisdom
April 1 - 2, 2023
Hosted by Northern Trail District
Participant Type: Scouts BSA youth
The purpose of the Introduction to Leadership Skills for Troops (ILST) course is to teach Scouts with leadership positions about their new roles and the organizational and leadership skills needed to most effectively reach success in that role. ILST provides Scouts with a broader understanding of the troop and ways they can work with other troop leaders (both Scouts and adults) to make the troop a success, and gives them strategies for dealing with many of the challenges they are likely to face.
ABOUT THIS COURSE
ILST is organized into three modules:
TROOP ORGANIZATION includes a description of each leadership position in the troop, including roles and responsibilities, troop organization, and introductions to vision and servant leadership.
TOOLS OF LEADERSHIP covers some core skill sets to help the Scout lead, including communicating, planning, and teaching.
LEADERSHIP AND TEAMWORK incorporates additional leadership tools for the Scout, including discussions of teams and team characteristics, the stages of team development and leadership, inclusion/using your team, a more in-depth review of vision, and ethics and values of a leader.
WHO PARTICIPATES IN THIS COURSE?
This course is for every Scout in the troop who holds a leadership position, including all elected positions and any appointed positions at the discretion of the senior patrol leader.
WHY THIS COURSE?
Completion of ILST is a prerequisite for Scouts to participate in the more advanced leadership courses National Youth Leadership Training (NYLT) and the National Advanced Youth Leadership Experience (NAYLE). It is also required to participate in a Kodiak Challenge Trek.
EVENT DETAILS
Location: Camp Wisdom, 6400 W. Red Bird Lane, Dallas, TX 75236
Check-in: Saturday, April 1 at 8:30 a.m.
End Date: Sunday, April 2 at 11:30 a.m.
Registration closes: Sunday, March 26 at 11:00 p.m. Walk-ins cannot be accepted.
This is the deadline to register, add/update participant information, and complete payment.
Cancellations: All cancellations must follow the Cancellation & Refund Policy (see Attachments)
CONTACTS
Course questions: Bill Wilson, wrw@billwilsonlaw.com
Registration questions: Paula Bramble, paula.bramble@scouting.org
When & Where
Camp Wisdom/Billy Sowell Scout Camp/Shirley Sowell Cub World
Saturday 04-01-2023 8:30 AM CT to
Sunday 04-02-2023 11:30 AM CT