2023 Horse Programs (Clements Scout Ranch)
Event Details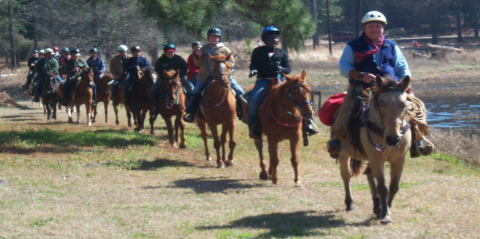 2023 Clements Scout Ranch
Trail Ride Program • Athens, Texas
for
Scouts BSA Troops & Venturing Crews
Experience the Scenic Pine Forests and Clear Lakes of Clements Scout Ranch from Horseback.
Both Guided Trail Rides and Horsemanship Merit Badge classes are available for Scouts BSA Troops and Venturing Crews through the lush pine and hardwood forests of East Texas. Ravines, creeks, and meadow views along with occasional glimpses of deer, raccoon, rabbits, squirrels, and other forest life are some of the features along the trails. No prior riding expierence is necessary.
Schedule
Trail rides are only available for Scouts BSA and Venturing Crews and will be held on select Saturdays. Offered at 9:00 am, 10:30 am, 12:30 pm, & 2:00 pm. Limited to 12 riders per time slot. The cost is $50 for In-Council riders and $55 for Out-of-Council riders. Maximum weight for any rider is 220 pounds unless waived by the Head Wrangler.
Horsemanship Merit Badge classes are only available for Scouts BSA and Venturing Crews (youth only) and are offered on select Saturdays. Limited to 24 attendees per class. This is a day long class and will result in a completed Horsemanship merit badge. Please see the sign up section for available dates. The Horsemanship Merit Badge fee is $75 per In-Council Scout and $80 per Out-of-Council Scout.
All classes are booked on a first come, first served basis and do not use a waitlist system. If your preferred day or time is not available, please choose another option or check back online periodically to see if space has opened up.
These outings are often considered the highlight of a Scout's year, and they are in very high demand. Please get your reservations in early to get a slot! Slots are first-come, first-served.
*Note the PowerPoint file at the bottom of this page under "Attachments"
When & Where
Trail Ride Session 1Clements Scout Ranch/Trevor Rees-Jones Scout Camp/Camp Meisenbach
Saturday 01-21-2023
9:00 AM CT to 10:00 AM CT
Past
---
Trail Ride Session 2Clements Scout Ranch/Trevor Rees-Jones Scout Camp/Camp Meisenbach
Saturday 01-21-2023
10:30 AM CT to 11:30 AM CT
Past
---
Trail Ride Session 3Clements Scout Ranch/Trevor Rees-Jones Scout Camp/Camp Meisenbach
Saturday 01-21-2023
1:00 PM CT to 2:00 PM CT
Past
---
Trail Ride Session 4Clements Scout Ranch/Trevor Rees-Jones Scout Camp/Camp Meisenbach
Saturday 01-21-2023
2:30 PM CT to 3:30 PM CT
Past
---
Horsemanship MBClements Scout Ranch/Trevor Rees-Jones Scout Camp/Camp Meisenbach
Saturday 02-11-2023
8:30 AM CT to 4:00 PM CT
Past
---
Trail Ride Session 1Clements Scout Ranch/Trevor Rees-Jones Scout Camp/Camp Meisenbach
Saturday 02-25-2023
9:00 AM CT to 10:00 AM CT
Past
---
Trail Ride Session 2Clements Scout Ranch/Trevor Rees-Jones Scout Camp/Camp Meisenbach
Saturday 02-25-2023
10:30 AM CT to 11:30 AM CT
Past
---
Trail Ride Session 3Clements Scout Ranch/Trevor Rees-Jones Scout Camp/Camp Meisenbach
Saturday 02-25-2023
1:00 PM CT to 2:00 PM CT
Past
---
Trail Ride Session 4Clements Scout Ranch/Trevor Rees-Jones Scout Camp/Camp Meisenbach
Saturday 02-25-2023
2:30 PM CT to 3:30 PM CT
Past
---
Horsemanship MBClements Scout Ranch/Trevor Rees-Jones Scout Camp/Camp Meisenbach
Saturday 03-18-2023
8:30 AM CT to 4:00 PM CT
Past
---
Horsemanship MBClements Scout Ranch/Trevor Rees-Jones Scout Camp/Camp Meisenbach
Saturday 04-15-2023
8:30 AM CT to 4:00 PM CT
Past
---
Horsemanship MBClements Scout Ranch/Trevor Rees-Jones Scout Camp/Camp Meisenbach
Saturday 04-29-2023
8:30 AM CT to 4:00 PM CT
Past
---
Philmont CavalcadeClements Scout Ranch/Trevor Rees-Jones Scout Camp/Camp Meisenbach
Saturday 05-06-2023
8:30 AM CT to 4:00 PM CT
Past
---
Horsemanship MBClements Scout Ranch/Trevor Rees-Jones Scout Camp/Camp Meisenbach
Saturday 10-14-2023
8:30 AM CT to 4:00 PM CT
Past
---
Trail Ride Session 1Clements Scout Ranch/Trevor Rees-Jones Scout Camp/Camp Meisenbach
Saturday 10-21-2023
9:00 AM CT to 10:00 AM CT
Past
---
Trail Ride Session 2Clements Scout Ranch/Trevor Rees-Jones Scout Camp/Camp Meisenbach
Saturday 10-21-2023
10:30 AM CT to 11:30 AM CT
Past
---
Trail Ride Session 3Clements Scout Ranch/Trevor Rees-Jones Scout Camp/Camp Meisenbach
Saturday 10-21-2023
1:00 PM CT to 2:00 PM CT
Past
---
Trail Ride Session 4Clements Scout Ranch/Trevor Rees-Jones Scout Camp/Camp Meisenbach
Saturday 10-21-2023
2:30 PM CT to 3:30 PM CT
Past
---
Horsemanship MBClements Scout Ranch/Trevor Rees-Jones Scout Camp/Camp Meisenbach
Saturday 11-18-2023
8:30 AM CT to 4:00 PM CT
Past