2023 Elm Fork District Dinner
Event Details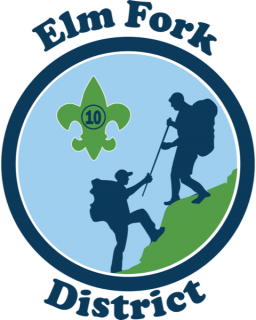 2022 Elm Fork District Recognition Dinner
St. Rita's Catholic Community
Saturday, January 28, 2023
6:00 - 9:00 pm
The Elm Fork District Awards and Eagle Scout recognition dinner will be held on Saturday, January 28, 2023 at 6:00 p.m. and the deadline to make your reservation is fast approaching. Registration closes at 11:00 p.m. on January 16, 2023.
2022 Eagle Scout recipients are invited to attend at no cost but must register for the event.
Names will be verified with the Council's Eagle Scout database.
Event Details
- Location:St. Rita's Catholic Community, 12521 Inwood Rd., Dallas, TX 75244
- Event Date: Saturday, January 28, 2023
- Check-in: 6:00 p.m.
- Registrations may be made individually or as a group.
Cost
- 2022 Eagle Scouts: Complimentary
- Adults/Youth: $25 per person
- Registration Closes: January 16 at 11:00 p.m.
This is the deadline to register, add/update participants, and complete payment
- Cancellations: All cancellations must follow the Cancellation & Refund Policy (see Attachments)
Contacts
- Dinner Co-Chair: Eunice Cruz, eunice.sanchezd@gmail.com
- Dinner Co-Chair: Carolyn Lane, Claetroop876@gmail.com
- Dinner Registrar: Kyle Hair, hairkyahoo@gmail.com
- District Executive: Kelly Ware, kelly.ware@scouting.org
Document Required at Check-in
- Circle Ten Council Arrival Checklist
When & Where
St. Rita's Catholic Community
Saturday 01-28-2023 6:00 PM CT to 9:00 PM CT