2023 Climbing Tower Training Level 1 & 2
Event Details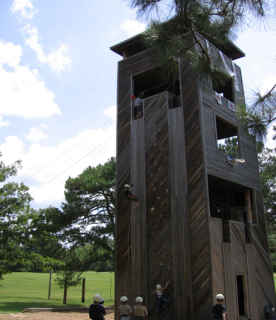 BSA Climbing Level I & II
Trevor Rees-Jones Scout Camp

BSA Climbing Level I & II Training is a weekend event at the Camp Trevor Rees-Jones Climbing Tower complex on that is offered twice a year. Attendance Friday evening through Sunday develops competency needed to qualify for BSA Level I and Level II Climbing Certification. Class starts Friday 7:00 p.m. and will end by 5:00 p.m. Sunday.This course is for scouters who want to learn how to rig the tower for unit climbing events and mature older scouts, age 14 - 17, who want to staff the tower at Winter Camp or Summer Camp or help with unit climbing events. Youth older than 16 and younger than 18 can earn Instructor in Training. You will learn how to belay, properly wear helmets & harnesses, tie climbing knots, rig a climb, and rig a releasable rappel. You will practice rigging the tower multiple times so you will be comfortable with the gear.
Sessions:
Spring Session: March 24 - 26, 2023

Registration closes Sunday, March 19 at 10:00 p.m.

Fall Session: September 22 - 24, 2023

Registration closes Sunday, September 17 at 10:00 p.m.
Cost:
Includes Saturday breakfast, lunch, and dinner; Sunday breakfast, and lunch
Adult Participant: $45
Youth Participant $45 (14 years and older who will staff the tower at BSA events like Campsgiving and Winter Camp); >16 & <18 years old earn Instructor in Training
Non-Certifying Adults: $25 (to cover food costs)

Non-Participating adults will register within their youth's "Youth Participant" registration.

Non-Certifying Youth (<16 years old): $25 (to cover food costs)

This is for youth younger than 16 years who need to accompany a participant doing the training because the youth can't be left at home alone; we don't have a certification for youth under 16. This is not for youth to earn Climbing Merit badge. This is not for youth to participate in a unit climbing activity weekend.
These youth will register within the Adult Participant registration.
Documents Required at Check-In
Circle Ten Council Arrival Checklist
Annual Medical Health Record AB
Contact
When & Where
Spring 2023Clements Scout Ranch/Trevor Rees-Jones Scout Camp/Camp Meisenbach
Friday 03-24-2023 7:00 PM CT to
Sunday 03-26-2023 5:00 PM CT
Past
---
Fall 2023Clements Scout Ranch/Trevor Rees-Jones Scout Camp/Camp Meisenbach
Friday 09-22-2023 7:00 PM CT to
Sunday 09-24-2023 5:00 PM CT
Past