Event Details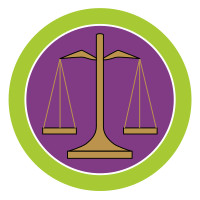 Law Day for Scouts

Circle Ten Council
8:00 a.m. – 4:30 p.m.
Saturday, 9 November 2019
UNT Dallas College of Law
1901 Main ST, Dallas
Important Information for Scouts, Parents, and Adult Leaders
Law Day for Scouts is an incredible opportunity to earn the Law Merit Badge working with leaders of the legal and law enforcement professions.
Before Law Day
Conduct a survey of members of the community about the role of law enforcement officers in our society.
Draft at least one question to ask a law enforcement officer about his or her responsibilities and duties.
The survey results and the law enforcement question should be typed and submitted with your name and unit number at registration.
What to Wear and How to Act
Full Class A uniform is required. We will meet important members of the legal and law enforcement profession. We must represent scouting well by being neat in our appearance, attentive to the speakers, and thoughtful to our hosts.
There are several important rules.
Please remember that we are guests in the law school, and that there will be law students working and studying in the building while we are there. We must not be loud or disruptive.
In the classrooms and courtrooms, other than water, drinks must be in spill proof containers.
Please stay in the part of the law school designated for this event. This means the hallway with all the classrooms. Scouts should not go unaccompanied to other areas of the law school, as those areas are being used by law students and professors. Also, some of the doors are equipped with alarms which we do not want to set off.
When you move from session to session, please make sure to "leave no trace." All trash should be disposed of.
Parking
Parents and leaders are welcome to park at the Elm Street Garage located at the corner of Main Harwood Streets. Depending upon whether there are any other events in the area costs would either be $5 or $10 for the day.
There is also street parking along Main Street which are metered at the rate of $1.50/hour.
Drop Off/Check-In
All scouts must be dropped off and checked in by either a parent or an adult leader. Check in begins at 8:00 a.m. We need all scouts to be checked in by 8:30 so they can be in their places by 8:45 a.m., when the program begins. Merit badge instruction will begin promptly thereafter. Don't be late! Space permitting, parents and adult leaders are welcome to stay and sit at the back of the room to observe the morning session.
Lunch
A box lunch will be provided for registered scouts.
Check-Out/Pick up
Closing remarks and presentation of the law merit badge and Law Day patch will occur at 3:30 to 4:30. Parents and adult leaders are welcome to join us, space permitting. However, you must arrive by 3:30 to enter the courtroom in order to avoid disrupting the event. Scouts may leave after a parent or adult leader has checked them out and after all trash has been picked up from the rooms and hallways.
Law Merit Badge Requirements
Define "law." Tell some of its sources. Describe functions it serves.
Discuss TWO of the following:
Justinian's Code, The Code of Hammurabi, and the Magna Carta.
The development of the jury system.
Two famous trials in history.
Tell what civil law is; tell what criminal law is. Tell the main differences between them. Give examples of each.
Ask five people (not more than one from your immediate family) about the role of law enforcement officers in our society. Discuss their answers with them. Go to a law enforcement officer in your neighborhood and ask about his or her responsibilities and duties. Report your findings.
Tell about several laws that were passed to protect the consumer and the seller. Tell about several organizations that provide help to consumers and sellers.
Do ONE of the following:
Attend a session of a civil or criminal court. Write 250 words or more on what you saw.
Plan and conduct a mock trial with your troop or school class. After the trial is over, discuss it with the group.
Arrange a visit with a lawyer who works for a business, bank, title company, or government agency. Find out his or her duties and responsibilities. Report what you have learned.
Explain the requirements for becoming a lawyer in your state. Describe how judges are selected in your state.
Make a list of 15 jobs that deal with some aspect of law or legal processes. Tell which you prefer. Why?
Tell where people can go to obtain the help of a lawyer if they are unable to pay for one. Tell what you can do if you can afford a lawyer but do not know of any in your area.
Discuss with your counselor the importance in our society of TWO of the following areas of the law:
Environmental law
Computers and the Internet
Copyright and the Internet
Immigration
Patents
Biotechnology
Privacy law
International law
When & Where
2019 Law MB DayUNT Dallas College of Law
Saturday 11-09-2019 8:00 AM CT to 4:30 PM CT
Past