Climbing Tower Level 2 Instructor Training
Event Details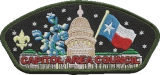 Climbing Level II Tower Qualification provides the participant the basic instructor skills and foundation knowledge to manage a climbing/rappelling/high element event. This is a hands-on course is structured to provide training in; activity planning, belaying, equipment, climbing, risk management, rappelling, rescue techniques and site operations. The technical skill set is applicable to climbing, rappelling or traversing any artificial surface or structure. It prepares the student to work on either a climbing wall, tower or the high course elements of COPE.
THE FOLLOWING DATES & TIMES ARE REQUIRED
DATES, TIMES & LOCATIONS:
Wednesday, September 15: Frank Fickett Scout Training and Service Center. 7:00pm - 9:00pm
Friday 17 Sept - Sunday 19: September (TOWER) DOKS Tower Lost Pines Scout Reservation. 7pm arrival Friday. Training finishes at 4 pm on Sunday.
Additional Training Required to become certified in Natural Area Climbing
For more information contact: Brad.Mudgett@gmail.com
When & Where
Sept 15 Classroom SessionCouncil Service Center
Wednesday 09-15-2021 7:00 PM CT to 9:00 PM CT
Past
---
Lost Pines Scout Reservation
Friday 09-17-2021 5:00 PM CT to
Sunday 09-19-2021 5:00 PM CT
Past