Order of the Arrow Lodge Leadership Development
Event Details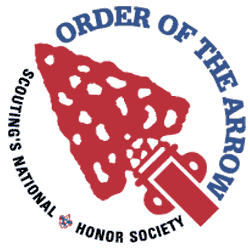 Lodge Leadership Development
An opportunity for all Arrowmen to learn and provide input on the Lodge events for the coming year. The weekend is a combination of vision casting, leadership training, and fellowship. The event is required for all lodge officers, chapter chiefs and adult advisers, and is open to all lodge members, youth and adult. There is no cost for this event.

Please bring the following forms with you: AB medical, pre-event medical screening form, Covid Risk Acknowledgment form and parental consent to transport form.
Classes will be held in the dining hall. Participants should sit no more than 4 to a table.
Face Coverings: Participants wearing a face covering are asked to bring their own and they should be properly worn over the nose and mouth. In addition to face coverings, physical distancing will continue to be a key step to our COVID-19 mitigation. This is especially necessary amongst those unvaccinated and when a face covering is not worn (e.g., eating).
Face coverings are not required when:
1) A person has been fully vaccinated (https://www.cdc.gov/coronavirus/2019-ncov/vaccines/fully-vaccinated.html) for COVID-19,
2) Physical distancing of six (6) feet is possible from others that are not in the same household, or
3) Eating, sleeping, or engaged in aquatic activities.
Face coverings are required when:
1) A person has not been fully vaccinated for COVID-19.
- As a reminder, many youth are not yet eligible for vaccination. For both these youth, and all other unvaccinated individuals, the use of face coverings continues to be required unless appropriate physical distancing can take place or individuals are kept within the same household (family).
2) A person has an underlying medical condition associated with high-risk for severe COVID-19 illnesses.
Meals will be served in the dining hall: lunch and dinner Saturday and breakfast and lunch on Sunday. If you have special diet requirements, please advise Richard South, rsouth@w-g.com, as soon as possible.
Bring your tent and sleeping gear. Youth will stay on the parade ground in front of the log cabin. Adults may use the staff cabins and or camp in the area between the pool and climbing tower.
Please note that the LEC will be held immediately following LLD in the dining hall from 1230 -2pm.

When & Where
Lost Pines Scout Reservation
Saturday 08-21-2021 8:00 AM CT to
Sunday 08-22-2021 11:30 AM CT
Past