Event Details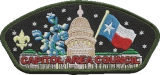 Each Saturday in the month of June we will have a Cub Scout Fun Day featuring BB shooting, archery, and general Scout fun.
Sign up for as many 2-hour sessions as you want at any of our four Fun Day locations (click on the location name for a map and directions)
When you are not shooting, you will be learning more about Scout crafts, skills, games and/or teambuilding
Event is for youth going into 1st, 2nd, 3rd, 4th or 5th grades in Fall.

Cost per participant is $20.

Parent/guardian are free and asked to accompany the youth for the entirely of the event.
Not a Scout? No problem. Everyone in the community is welcome to sign up for these events!
When & Where
VFW4443 Veterans Cove Cub Fun DayVWF 4443
Saturday 06-04-2022 11:00 AM CT to 5:00 PM CT
Past
---
Cabelas Buda Cub Fun DayCabelas
Saturday 06-11-2022 11:00 AM CT to 5:00 PM CT
Past
---
Pioneer Farms Cub Fun DayPioneer Farms
Saturday 06-18-2022 11:00 AM CT to 5:00 PM CT
Past
---
Camp Mabry Cub Fun DayCamp Mabry
Saturday 06-25-2022 11:00 AM CT to 5:00 PM CT
Past