NRA Basic Instructor Training (BIT) 12/11/2021
Event Details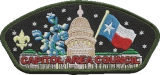 Age Requirement: 21 (See below for limited exception)
Description: This 6 hour Basic Instructor Training (BIT) is designed to develop Certified Instructors who possess the knowledge, skills, and attitude necessary to conduct the NRA Basic Firearm Training Courses. Taking BIT will not certify you as an NRA Firearms Instructor and it is not for Cub Scout Leaders needing BB rangemaster training.
BIT is a pre-requisite for all instructor level courses (rifle, shotgun, muzzleloading or pistol instructor). BIT is normally offered in conjunction with the rifle instructor course, but is not offered prior to other instructor courses. If you wish to take future future rifle/shotgun/pistol/muzzleloading courses and are not already an instructor, you must take this course.
Limited Exception: Scouts under 21 who plan to work at winter or summer camp on either the rifle or shotgun range may attend and be certified as assistant or apprentice instructors. Prior to registration, approval must be obtained from Mr. Agnell at bill.agnell@gmail.com.
Class Size: This course is open to the first 20 who register and pay the $60 course fee.
Times: 9:00 am - 4:00 pm. Lunch on your own.
Activity Location: The Fickett Center is at 12500 North IH 35, Austin, TX 78753, US
For questions or additional information, please contact Bill Agnell at bill.agnell@gmail.com
When & Where
NRA Basic Instructor Training 12/11/2021Council Service Center
Saturday 12-11-2021 9:00 AM CT to 4:00 PM CT
Past