Event Details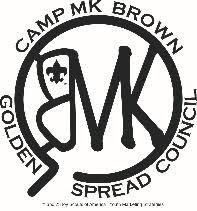 MKB offers Aquatics programs such as canoeing, rowing, motorboating, sailing and we have fun things to do on the water such as Kayaking, Peddle boats, and Corcls. At our shooting ranges, we offer Shotgun and Rifle shooting and an evening shoot!. Of course we offer many camp type merit badges such as First Aid, Camping, Cooking, Orienteering etc. Check all this out in our Leader's Guide!
Our staff is the best! We have adult instructors who have been part of staff for many years and we have a few new ones this year which we are excited about. Our youth staff are also some of the best. Most have been on staff since they were 14 years old and love Camp MK Brown and love the scouts who attend. Their excitement and enthusiasm is unmatched. Your scouts will want to be on staff and we would love to have them!!!
If your troop is not going to attend Camp MK Brown but you have a scout that wants to or camp go to another camp, we have a Provisional Troop Program. We will place your scout (s) with a troop and their leadership who is attending. This is a great opportunity to stay local and support Camp MK Brown!
When & Where
Camp MK Brown
Sunday 06-18-2023 1:00 PM CT to
Saturday 06-24-2023 10:00 AM CT
Past